December 13-20, 2006
home | metro santa cruz index | music & nightlife | preview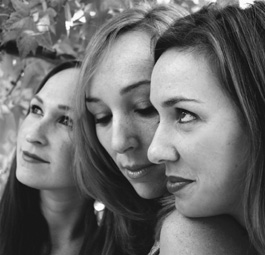 Mayim Civilization: The revolution will not be instrumentalized.
Bucking Tradition
Mayim find the sacred in a wide array of faiths
By Paul Davis
A holiday a cappella performance may not be the first place you'd look for firebrand political commentary, but for Santa Cruz three-piece Mayim, political commentary is part and parcel of their yearly secular winter concert and holiday celebration, which will be coming to the Kuumbwa on Dec. 16.
"One of the songs we will be debuting is called 'All Of Us,'" explains Mayim member Natalie Bridgeman. "This is really a song about the Bush administration when it comes down to it--it's come to a point where it's unacceptable, and it's a metaphor for some of the religious overtones that have come into the political arena in the last six years. The chorus is 'your offering is all of us.'"
Bridgeman, who has been performing alongside Ariel Thiermann and Jemila Alldis as Mayim since the group formed at Santa Cruz High in the early '90s, is the politicized voice of the group.
"I tend to write songs that are political and Ariel tends to write songs that are about the spirit and love songs, and between that we balance each other out," she says. "I'm an international human rights lawyer, so I deal with issues of politics and conflict all the time--they're the themes that give me inspiration for what I write."
Even as the group turn a critical eye to the intersections of faith and policy in the current administration, their annual holiday show is first and foremost a celebration of a wide variety of faith practices. Mayim--whose name means "water" in Hebrew--may perform holiday standards such as "Silent Night," but they also delve into older traditional Jewish, Muslim and pagan traditions in their repertoire, paying tribute to their diverse musical and religious backgrounds.
"We all come from a tradition of family that are all singers, all of it is sacred music that we really enjoy, and some of the rounds are meant so that people can sing along to them also. We like to bring that into our shows so people can actually know the words and sing along and celebrate that group sound," says Bridgeman, noting that their original song "Sacred Season" off their 2005 holiday album touches on that interplay of faiths. "'Sacred Season' was meant as a secular, and possibly a pagan solstice song, so we touch on that along with the regular Christian Christmas tradition," she explains, adding "different faiths, different environments.. ... We want to create an environment to represent that."
Given the polarized political climate, the trio are navigating potentially rocky terrain mixing politics and religion even as they embrace a number of religious traditions. Bridgeman emphasizes that the group aim to highlight their respect for the traditions and faiths, not use them as an entry-point for dogmatic posturing, and say that Mayim has encountered little trouble blending the sacred and the political.
"We're cognizant of [those issues], that's why we try to incorporate as many traditions as we can into our music, especially at the holidays. With our holiday album we try not to call it a Christmas album because it incorporates both Arabic and Hebrew along with English. This concert will definitely have a smattering of all our different songs we do from all the different denominations we represent, while trying not to exclusively be a holiday event."
As Mayim enters a new year--and even as Thiermann's solo career has thrived in recent years--Bridgeman expects that the new material they will perform at the holiday show will show up in recorded form sooner rather than later.
"We have quite a bit of new material that's working its way toward a new album," she says. "We find that the songs lead their own direction to whether we're recording or not, so it's probably going to be coming in the next year."
And even as Thiermann and Bridgeman's songwriting grows wider in scope, Thiermann notes that this isn't such a radical departure for the group. "The songwriting has been fairly prolific this last year, with Ariel and I and the three of us sitting down together and arranging the songs ... they come off with the Mayim fingerprint but they start off with our own original styles."
The Mayim Winter Concert takes place Saturday, Dec. 16, at 8pm at the Kuumbwa Jazz Center, 320 Cedar St., Santa Cruz. Tickets are $15 advance/$17 door. (831.425.1232; www.kuumbwajazz.org)
Send a letter to the editor about this story.