December 13-20, 2006
home | metro santa cruz index | the arts | books | profile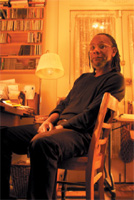 Photograph by Laura Mattingly
Mackey at home: The poet was still in the midst of writing 'Splay Anthem' when 9/11 happened. 'It seemed like what I had already been writing about,' he recalls, 'now had this very huge and momentous resonance.'
Let Us Splay
National Book Award winner Nathaniel Mackey talks about poetry, jazz and the alchemy of creating beauty from discord
By Bill Forman
Nathaniel Mackey finds himself drawn to dissonance. Where others hear only discord, he senses the prospect of discovery. Even in the morass of post-9/11 America--where everything changed except the things that needed to--he finds ways to create something beautiful amid what he calls the "imperial, flailing republic of Nub the United States has become."
After a quarter-century of simultaneous perseverance in three often frustrating fields--as a professional poet, university professor and radio host--Mackey's cultural stock rose overnight with the announcement that his latest collection, Splay Anthem, is the winner of this year's National Book Award for poetry. Mackey says he was as surprised as anyone by the decision.
"That award usually doesn't go to poets writing in a more experimental vein," says Mackey. "I've heard from a lot of people that they feel it's a good thing for poetry, that it opens up the aesthetic spectrum which that award has tended to validate."
Indeed, Mackey may be the least conventional poet to win the National Book Award since William Carlos Williams took home the first back in 1950 for Paterson, which was put out by the upstart imprint, New Directions, that would go on to publish Splay Anthem more than a half-century later.
"It gave the award an added resonance, because William Carlos Willams is one of the first modern poets that I read when I was a teenager back in the '60s," says Mackey of the seminal poet, who also drew upon the rhythms of American jazz in his search for the perfect line. "I call him my initiator into modern poetry, because up until that point, I'd read stuff like Longfellow. I just happened upon Pictures of Brueghel, and was sort of curiously attracted to the name. William Carlos Williams: So Anglo, you know, and so Hispanic at the same time. And then I read Paterson, which was a whole 'nother kind of poem than I ever imagined there could be. So he was my gateway into reading the Black Mountain poets and a lot of the poets included in the New American Poetry anthology that Donald Allen published in 1960. And he's remained a real presence for me; I teach a senior seminar up at UCSC devoted entirely to Williams and his work."
Mackey and his initiator also had similar views when it comes to dissonance. "Williams has a couple of lines in book four of Paterson where he says, 'Dissonance / (if you are interested) / leads to discovery,'" recalls Mackey. Indeed, whether the dissonance in question comes from a Pharoah Sanders or Ornette Coleman solo--or from the events and aftermath of 9/11 that surrounded and informed the final "Nub" section of Splay Anthem--Mackey sees it as a source of opportunity that can either be embraced or ignored.
"It's like finding what the opening is, and what the possibility that dissonance discloses is. So there is a kind of beauty that can come out of that. There is even a kind of positive prospect. You know, you learn, you move on, you incorporate what was the disturbing experience: You get a certain resilience from it, you get a certain strength from it. You know, you cauterize the wound.
"And that's something of what I'm hearing," continues Mackey, "when I listen to the musicians you've named, and of course many unnamed musicians. Pharoah Sanders, that screeching--by most people's definitions of musicality--that unmusical realm into which he goes. People who listen to him don't hear it as unmusical. So again, discovery leads to an expansion of our ideas of what's musical, what's beautiful, what's good, what's true. And that's one of the things that Williams is getting at, the shock of the new is often a dissonant experience, and a dissonant experience can also lead us to recognizing the necessity of the new. Because we don't have the old comforts."
The old illusions, on the other hand, may be even harder to forego. As Mackey writes in his introduction to Splay Anthem, "In a match that seems to have been made in hell, hijacked airliners echo and further entrench a hijacked election (cycles of recriminatory assault further confirming a regime of echo the poem's recourse to echo would cure homeopathically if it could)."
"When 9/11 happened I was into the second section of the book, 'Fray,'" says Mackey of Splay Anthem, which also includes the latest installments in Mackey two decades-long serial poems, Mu and Song of Andoumboulou. "And it seemed like what I had already been writing about now had this very huge and momentous resonance with what happened with 9/11 and its aftermath. So that's why the whole business of Nub [Mackey's metaphor for America in spiritual decline, it's also the name of the book's final section] came to be what it was. These are kinds of things that I've been thinking about and working with over a period of time: This sense of catastrophe, disaster, failed connection, failed collectivity, you know, miscarriage of one sort or another. So Nub just flowed right out of that."
A wash of sentiment flooded frame,
ground, figure. The wall between
'given' and 'gone' grew thin, the
dead surviving death in a swirl of
wind ...
--from 'Dead Lake Aperture ("mu" thirty-sixth part)' in Nathaniel Mackey's 'Splay Anthem'
Mackey sees 9/11 as a missed opportunity for America: "Well, what could have changed would have been an opening up to the world, and some real use being made of the unprecedented amount of sympathy and feeling of identification and a kind of solidarity. People in the rest of the world were identifying in ways that hadn't been there before. And that could have been an opening and should have been an opening to the United States receiving that embrace, but also receiving a certain kind of information and a responsibility to look at what we as a country have been doing in the world and what we need to change about that.
"And that didn't happen, of course. There was a circling of the wagons and also there was a political opportunism on the part of the Bush administration to further agendas that were going in the opposite direction, that were making us more of a bunker state on the one hand and on the other hand making us more of a militaristic imperial entity. So the good things that could have come out of it obviously didn't, and basically what we've seen is the worst."
Instead, what remains is a sense of dimunition, a state of being that just happens to rhyme with the word Shrub: "It just seemed to me that the United States got smaller in a lot of ways," says Mackey. "We have a very small president. We had a very small president before 9/11. And it seems to me that he got smaller, and took the country in that direction with him. Nub, you know?
The host of KUSP's Sunday afternoon radio show, Tanganyika Strut, grew up as the youngest of three brothers in Southern California.
It was there that Nate Mackey, while still in junior high school, began a musical awakening that would parallel the expansion of his poetic boundaries. "The younger of my two brothers--who's eight years older than me--he had some Miles Davis and some Duke Ellington albums," recalls Mackey. "And then I started listening to the jazz station in Southern California--in fact at that time there were two of them, believe it or not, and they were playing real stuff."
Intrigued by the controversies surrounding Ornette Coleman he was reading about in Downbeat, Mackey went out and bought Coleman's This Is Our Music album. "That was the first time I heard [Coleman's trumpeter] Don Cherry, and Ornette Coleman as well, and it was a jarring dissonant experience," laughs Mackey. "You know, it wasn't Miles Davis! I could hear why there was controversy, but I kept listening, and I came to like it. I stayed with it."
It was Don Cherry's early '70s albums with percussionist Ed Blackwell, Mu First Part and Mu Second Part, that provided Mackey with the title for his serial poem, Mu, which continues on in Splay Anthem. "Don Cherry's movement toward cross-culturality was really a formative experience for me--the fact that he didn't stay within the African American jazz idiom that he was brought up in and that he made his first mark in," explains Mackey. "He got into all these other world musics, you know Tibetan stuff. ... The first place I ever heard Balinese gamelan music and instruments was on Don Cherry's Eternal River album.
"Part of the impetus to widen my own horizons came from these musicians," Mackey continues. "I was reading about John Coltrane listening to Ravi Shankar's music, him and Eric Dolphy sitting around listening to Pygmy music from Central Africa and things like that."
It was also in Southern California that Mackey was introduced to rhythm & blues via future Pacifica Radio host Johnny Otis. "He had a TV program, The Johnny Otis Show, on one of the local stations back around 1957-58," recalls Mackey. "Esther Philips was a regular--she was part of the Johnny Otis Revue--she was called Little Esther then. There were these three rather large women singers, I've forgotten their names, but they were called the Three Tons of Joy. It was like a variety show. Red Foxx appeared, I mean, a very sanitized Red Foxx would come on and do comedy. But it was fun. And of course he had that huge band. So I knew him from there, and then of course Shuggie Otis was playing in the '60s and did that absolutely killer version of 'Signifying Monkey.' And then I would hear Johnny Otis' radio show on Pacifica Radio, you know, KPFK down in Southern California, and he was also broadcasting on KPFA up here."
Many decade later, Mackey was in Logos on Pacific Avenue when he came upon a copy of Otis' book, Colors and Chords, a book of Otis' artwork, which included the "Horn Player" image that would end up becoming the cover of Splay Anthem.
"I knew that Johnny Otis was like this Renaissance man just from listening to his radio show," says Mackey, noting Otis's additional involvement in music, art, organic farming and politics. When contacted by Mackey's publisher, Otis and his agent turned down a permissions fee and even paid to make transparencies of the work. "I was very happy with the cover," says Mackey. "In fact, I heard that someone who was talking about the National Book Award finalists said that we had by far the best art."
When Mackey arrived at Princeton as an English undergraduate in the '60s, the curriculum turned out to be even less integrated than the university itself. "There was only one African American author read in the entire Princeton English department curriculum and that was Ralph Ellison's Invisible Man, which was read in an introduction to American literature course," he recalls. Mackey and other students successfully pushed for a course in African American literature, and it was in that class that he first met newly published poet Ishmael Reed.
Back on the West Coast as a graduate student at Stanford, Mackey began editing a literary journal called Hambone; he recalls how one favorite issue contained material by Ishmael Reed, musician Sun Ra and poet Robert Duncan. After a return to Southern California to direct the Black Studies Department at the University of Southern California in the late '70s, Mackey ended up taking a post at the UCSC, where he's been a professor of literature since 1979.
That same year, Mackey--who had broadcast jazz at Princeton's WPRB and world music at Stanford's KTAO--began his extended run as a KUSP DJ. "I was doing a musical mix program that included jazz, but I was also playing 'Song of the Andoumboulou' by the Dogon of Mali and that kind of stuff." Mackey's current show, Tanganyika Strut, airs Sundays at 3pm and includes--Mackey reels a list off the top of his head--"African music, Middle Eastern and North African, Pakistan and Indian, Indonesian, on the European side, flamenco is a big place on my map, but also Portuguese fado, West Indian, some reggae and calypso, South American, Brazil, Susan Baca, Peruvian, different things. I've had my little obsessions over the years--there was a time when I was playing a lot of Brazilian music. It changes over the years and depends a little on the time slot, but I'm pretty stubborn on that front too."
Mackey says he favors "music that has a very strong percussive component and is improvised in one way or the other. And the vocal styles I tend to like are the ones that stretch the voice--extended voices as they call it in new music, which is how I remember hearing Merideth Monk's music described."
He also continues to edit Hambone, which he likens to putting a radio show together. "You segue, you juxtapose, you mix." But when it comes to the journal, Mackey has foregone keeping to a regular publishing schedule. "I just brought out one in September; I think it's up to No. 18," he says. "It's coming out every other year now. It got to the point where I had to either not do it, or I had to do it on this infrequent schedule. I gave myself permission to bring it out when I can."
Indeed, Mackey is nothing if not busy. He's already finished writing Bass Cathedral, the fourth book in a prose series of epistolary novels that recount the adventures of a fictional L.A. music collective called the Mystic Horns, which Mackey readily admits is patterned after outfits like Sun Ra's Arkestra and the Art Ensemble of Chicago. "It's definitely a whiff of Chicago blowing into L.A.," he says. "Because I was listening to that music and just getting the sense of not just a band, but a kind of floating commune."
While his prose may be more accessible, virtually all of Mackey's work conveys a rich musicality--especially when read aloud--in form as well as content. "Oh yeah, that's one of the defining characteristics of poetry, for me, is its musicality," says Mackey. "You know, I try to cultivate the music of language, which is not just sounds. It's also meaning and implication. It's also nuance. It's also a kind of angular suggestion, that kind of stuff. There's a semantic dimension to musicality as well, when you start getting into shades and inflections and communication and tone, but also the parsing of the meaning of the words too. You know, I'm not a sound poet in that sense where meaning doesn't count, where sound is so predominant that meaning fades from the picture. But certainly music is not only a reference point for me, but something that informs how I approach writing."
Having created a self-sustaining body of work that encompasses poetry, music and politics, Mackey is too grounded to let a National Book Award--however much he may enjoy the attention--distract him from his literary mission. In addition to the forthcoming Bass Cathedral, he reports, "I'm at the halfway point, at least, in a new book of poems. And I'm still writing in those two series, Song of the Andoumboulou and Mu. I don't see them as closed; they're open series. I imagine I will be writing them as long as I'm writing."
Send a letter to the editor about this story.