December 13-20, 2006
home | metro santa cruz index | music & nightlife | mūz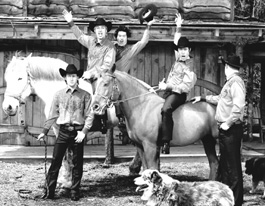 Me generation: Me First and the Gimme Gimmes play the Catalyst Saturday.
Mūz
Me First and the Gimme Gimmes
By Steve Palopoli
'The ants are my friends." That's what stoners everywhere thought they heard Dylan singing in his famous anthem "Blowin' in the Wind"--so many that it became a legendary misheard lyric. It's also what some fans thought they heard when the world's greatest cover band, who play Santa Cruz Saturday after a stop at Slim's in San Francisco on Friday, did their version of the song on their 2001 collection of '60s punkdates, Me First and the Gimme Gimmes Blow in the Wind. Now it can be told: they did. Because unlike Dylan, Gimmes vocalist Spike Slawson actually did sneak it in there at the end of the song. It's just one example of the little punk-rock touches that make a Gimmes remake unique. Like Slawson sneering "my boyfriend's ... black!" at the end of "My Boyfriend's Back," or their talent for grafting punk classics onto the structure of unsuspecting pop songs. Their most famous mash-up is probably the beginning of "My Favorite Things," sung to the tune of Bad Religion's "Generator" on their 1999 album of musicals covers, Me First and the Gimme Gimmes Are a Drag.
There's another Bad Religion reference on their new record, too--wound around their killer ride through Dolly Parton's "Jolene." But an even better in-joke on the new Me First and the Gimme Gimmes Love Their Country is when the opening of the Misfits' "Astro Zombies" gives way to Willie Nelson's "On the Road Again." Truly, it boggles the mind.
Slawson says the mastermind behind these inspired moments is bassist Fat Mike, better known as the frontman for NOFX, the founder of Fat Wreck Chords and the last man standing who's tried to infuse some political awareness into popular punk via punkvoter.com. Actually, the whole band is a punk brain trust, since Slawson is also in Swingin' Utters, while Me First guitarist Joey Cape and drummer Dave Raun are in Lagwagon and guitarist Chris Shifflet was in No Use for a Name before joining Foo Fighters.
Shifflet is the group's primary musical translator (and how--some of his arrangements are superior to the originals not just in the adrenaline department but also in the classic songwriting sense), but Fat Mike is the go-to guy for crazy shit. "When he gets little weird esoteric ideas like that, I listen," says Slawson.
Love Their Country is arguably the Gimmes' best record, and bizarrely enough, their cover of the Dixie Chicks' "Goodbye Earl" is their most ingenious cover yet. Sounding like the bastard child of NOFX's "Bob" and Billy Bragg's "A New England," it makes the Dixie Chicks sound as good as you've wished they did since they made the idea of their band cool by taking on the Iraq War. "I don't really like the Dixie Chicks or New Country," says Slawson. "But they put themselves out there in a way that punk bands haven't done since the '70s or '80s. Except for Mike."
The new record includes some songs that Slawson truly digs, like Hank Williams' "I'm So Lonesome I Could Cry" and Kris Kristofferson's "Sunday Morning Coming Down" (originally made famous by Johnny Cash's cover). But as on past Gimmes records, there's plenty of room for campy choices like Garth Brooks' "Much Too Young (To Feel This Damn Old)," and "Desperado" ("I hate the Eagles," says Slawson, sounding very Dude).
He's proud of the Gimmes' twisty unpredictability, but rest assured that many of their weirdest ideas have never seen the light of day--because sometimes just because you can do something doesn't mean you should.
"It can do a lot more damage than it does good," says Slawson. "To your reputation and self-esteem."
Send a letter to the editor about this story.