December 13-20, 2006
home | metro santa cruz index | santa cruz county restaurants | review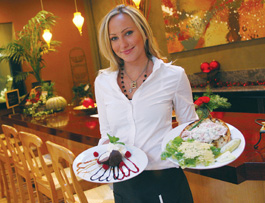 Photograph by Carlie Statsky
Presentation is everything: A well-decorated interior and deliciously presented food items can make one forget the vicious holiday stampede out on the mall.
Shelter From the Storm
Center Street Grill offers a balance of fried treats and fresh vegetables
By Selene Latigo
Every year I struggle to find clarity in my holiday gift giving. Constant scheming is necessary to locate a balance between time, energy and money spent, while simultaneously trying to keep my purchases local and globally conscientious. Needless to say, as with most everyone else at this time of year, it's an exhausting process. It is important to remain calm, maintain an open view toward this festive and giving season, and to reward ourselves for not giving up completely. The best way I have found to incite the motivation and extra energy needed for craft brainstorming and shopping excursions is to go out to eat. Food always perks my interest and is a valuable coaxing tool. In all honesty, I bribed Dave to come shopping by promising lunch at the new Center Street Grill, providing a much needed respite from the weekend's holiday pressures.
This spacious and meandering restaurant is brimming with sleek comfort. The space is nothing new; it was formerly the Red Lantern and, before that, the legendary India Joze. But the recent renovation has created a warm, luxurious atmosphere with white linens, sparkling surfaces and tastefully bold holiday touches. I felt like I was walking into a fancy city hotel as we crossed the rooms and headed to the secluded patio to revel in the early December sunshine. The outdoor space, however, feels like it is in a state of transition with a bamboo curtain, heat lamps and mismatched landscaping that would benefit from the same level of attention that the interior has received.
As we basked in the rare hot sun and looked over the wide-ranging menu, a surprise starter was delivered. The "honey balls" are not on the menu, and I'm still not sure if they are a standard offering, as I didn't notice them on the neighboring tables. Akin to beignets, the fried pillows were hot, generously drizzled in honey and cinnamon, and cleanly fried with no trace of greasy aftertaste. They were extremely crisp on the outside and moist as cake on the inside, an ideal breakfast treat or dessert. Served at 2pm, it seemed like an odd snack to begin our late lunch, but was more than welcome just the same.
After a hint of the kitchen's frying technique, Dave was compelled to keep it going with the Southern-themed choice of shrimp Po' Boy ($8.95). A soft, sesame-studded white bun encased big, plump and tender shrimp, fried with the same deft hand to create a coating that shattered with each bite. Underneath the shrimp was a layer of simple, green onion-speckled coleslaw that added a cooling yet rich creaminess to the hot shrimp and lemon spiked tartar sauce. Unfortunately, the pile of accompanying french fries were completely contradictory to the otherwise deep-fried excellence. They were pale, soggy and bland, detracting from the hearty sandwich instead of adding to it.
I chose to lighten things up with one of the entree-size salads. My ahi tuna salad ($9.95), otherwise known as a salad niçoise, featured a huge bowl of greens--a touch overdressed in a pleasantly simple vinaigrette--topped with a colorful array of fresh ingredients. The green beans maintained snap, the red potato cubes were not at all mushy, the cherry tomatoes popped with sweetness and the hard-boiled egg achieved ideal softness (a task I still tend to overdo). A large cut of chilled, cooked tuna was perched on top--a bit overly firm--along with flavor enhancing capers, Kalamata olives and razor-thin red onion rounds.
Next to us, a party sat down for brunch and special mimosas, signifying that it may never be too late for beignets. Hopefully they got those special nuggets as well. Inside, a large table sang "Happy Birthday" as we reluctantly took our leave to reintegrate with the throngs of manic shopping crowds downtown. The Center Street Grill will be remembered as a place for celebrations and an opportunity to duck into another world. This tucked-away, expansive restaurant feels so far away from our banalities and familiar scenes yet sits waiting only a hop, skip and jump from Pacific Avenue.
---
Center St Grill
Address: 1001 Center St., Santa Cruz
Phone: 831.423.4745
Hours: 8am-9pm Mon-Thu, 8am-10pm Fri-Sat, 8am-3pm Sun
Price Range: $6-$17.
Send a letter to the editor about this story.