December 20-27, 2006
home | the papers | metro santa cruz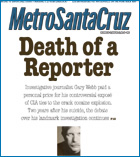 Gary Webb
The Mercury News investigative journalist paid a personal price for his controversial exposé of CIA ties to the crack cocaine explosion. Two years after his suicide, the debate over his landmark investigation continues.
Gary Webb in his own words
At a 1999 speaking function, the late journalist discusses how he got into journalism, took on the CIA and became a target for the mainstream media.

SCCRTC purchase of Branch line railroad property
Symposium focuses on how rail corridor could help cure county's growing pains.
Nūz: Santa Cruz News and Politics
30 acres and a duel.

Movie review: 'Volver'
Penélope Cruz adds sexy suds to Pedro Almodóvar's soapy picture.
Movie review: 'Charlotte's Web'
New version of E.B. White kids' book is no 'Babe.'

MORE MOVIE REVIEWS

SANTA CRUZ COUNTY MOVIE TIMES

Los Dryheavers
They've become poster boys for the Central Coast punk scene.
Mūz: Santa Cruz Media, Music and Arts
Justin Timberlake revisited.
Music and Nightlife Calendar Picks
Our critics pick this week's most interesting gigs.

MORE MUSIC AND NIGHTLIFE

MUSIC AND CLUBS LISTINGS

Dining: Maya's
Brings a taste of pre-Spanish decadence to Santa Cruz County.

BOOK A RESTAURANT RESERVATION

FIND A RESTAURANT REVIEW

Letters to the Editor
December 20-27, 2006.