January 10-17, 2007
home | the papers | metro santa cruz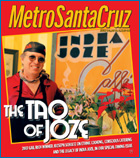 Jozseph Schultz
His brick-and-mortar India Joze may be gone, but Schultz's after-hours menu is as eclectic as ever.

Paul Lee
The self-proclaimed "psychedelic professor" brings his nuanced observations on Homer and Socrates to the Attic.
Nūz: Santa Cruz News and Politics
Vipassana Santa Cruz celebrates its new West Side location.

Movie review: 'Perfume: The Story of a Murderer'
Tykwer's latest film smells of trying to please a built-in cult audience.

MORE MOVIE REVIEWS

SANTA CRUZ COUNTY MOVIE TIMES

Music preview: Club Zayante benefit
Santa Cruz music luminaries reunite for a benefit for victims of the Club Zayante fire.
Mūz: Santa Cruz Media, Music and Arts
Reggae royalty Bunny Wailer will headline the Santa Cruz Dayz celebration at the Civic.
Music and Nightlife Calendar Picks
Our critics pick this week's most interesting gigs.

MORE MUSIC AND NIGHTLIFE

MUSIC AND CLUBS LISTINGS

Pomegranates
Their antioxidant-rich juice--have become all the rage. For Iranians, they always were.
Fast food
How many Crunch Wrap Supremes does it take to reach enlightenment? Our wide-eyed scribe dives into a bold new world of fast-food dieting.

BOOK A RESTAURANT RESERVATION

FIND A RESTAURANT REVIEW

Rudy Rucker
Los Gatos' cyberpunk novelist on Santa Cruz surf culture, cutting edge math and cockroach love.
Letters to the Editor
January 10-17, 2007.