02.11.09
home | the papers | metro santa cruz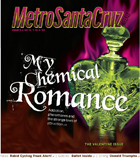 My Chemical Romance
In honor of St. Valentine's Day, we don our cutest undies and: pontificate about love's addictive chemicals, test the power of pheromones , issue stern warnings about romance in the age of Facebook and introduce Santa Cruz readers to Midori the sexpert and an anonymous maker of artistic dildos. And you thought romance was dead.
2009 Goldies Ballot
Vote for your favorites now!

Bike Nuts Prepare to Swarm Santa Cruz
As the Tour of California gears up, we wonder: just how far will obsessive bike fans go to see their favorite sport? Answer: As far as they must.
Nūz: Santa Cruz County News Briefs
The sheriff's department scratches its head over Santa Cruz council's ride-home idea, coho salmon gasp for water, union gets proactive over forthcoming county budget cuts and Watsonville lawyer Luis Alejo wins the first annual Tony Hill Award.

War Story
Ari Folman's animated 'Waltz With Bashir' recalls the pain of an earlier war.

MORE MOVIE REVIEWS

SANTA CRUZ COUNTY MOVIE TIMES

Mūz
Curtis Cartier gives a listen to January's releases and picks the best. And the winners are...
Music and Nightlife Calendar Picks
Punk rockers Agent Orange and NoFX explode onto Santa Cruz stages this week, along with rockabilly's holiest man and Argentina's most electrifying folk chick.

MORE MUSIC AND NIGHTLIFE

MUSIC AND CLUBS LISTINGS

On Oswald
At long last, an old favorite materializes in a new location, expertise intact.

BOOK A RESTAURANT RESERVATION

FIND A RESTAURANT REVIEW

Flight Makes Right
Contact improv master and former Santa Cruz resident Scott Wells returns for a show and workshop.

Letters to the Editor
February 11-18, 2009