May 21-28, 2008
home | the papers | metro santa cruz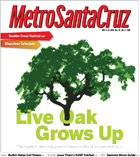 Live Oak Grows Up
Santa Cruz County's most populous unincorporated area ponders a smart-growth future. Plus: District 1 candidates weigh in on the future of Live Oak.
Home Fires Burning
Sudden loss and rattled nerves on the first day of the Santa Cruz Mountains wildfire

Budding Friendship
Watsonville looks out for its florists
Easy Streets
The land use-traffic connection comes to Santa Cruz in a May 22 forum.
Nūz: Santa Cruz County News Briefs
Rotkin finesses cell tower restriction law, treesitters advertise for replacements and county loses two affordable housing parcels but gets a bigger one suitable for more units.

Summer Film Guide
The long hot summer of looking backward at the movies

MORE MOVIE REVIEWS

SANTA CRUZ COUNTY MOVIE TIMES

Rock In Them Thar Hills
San Lorenzo Valley represents in the finals round of Your Music Olympiks
Men With A Mission
Chanticleer revives the music of Old California with a series of concerts at Holy Cross and other missions
Mūz
Garrett Wheeler oohs and aahs at the grand finale of Britannia Arms' Songwriter Showcase
Music and Nightlife Calendar Picks
Our critics pick this week's most interesting gigs.

MORE MUSIC AND NIGHTLIFE

MUSIC AND CLUBS LISTINGS

Riva La Difference
A focus on seafood and not a bad table in the house make Riva a worthy Santa Cruz institution
Dish
You can't get your Kix at Cereality in downtown Santa Cruz, but you can get just about everything else.

BOOK A RESTAURANT RESERVATION

FIND A RESTAURANT REVIEW

Payback Time
Jesse Thorn, America's Radio Sweetheart, hosts a benefit comedy fest for KUSP, the Santa Cruz station that launched him to fame and riches
Big Tree Shindig
The Boulder Creek Art & Wine festival delivers the goods in the redwoods