May 9-16, 2007
home | the papers | metro santa cruz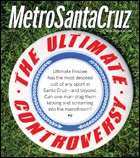 The Ultimate Controversy
Ultimate Frisbee has the most devoted cult of any sport in Santa Cruz--and beyond. Can one man drag them kicking and screaming into the mainstream?

Brewing Coffee and Consciousness
Local nonprofit brings Costa Rican coffee farmers to town.
A Shining Light in Corporate Ethics
Cemex puts its money where its mouth is and donates $25,000 to local advocacy group Save Our Shores.
Nūz: Santa Cruz County News Briefs
Raised by Wolves.

'Next'
Nicolas Cage stars as a lost X-Man.

MORE MOVIE REVIEWS

SANTA CRUZ COUNTY MOVIE TIMES

Mūz: Santa Cruz Media, Music and Arts
The B-Side Players' Fifth Dimension.
Music and Nightlife Calendar Picks
Our critics pick this week's most interesting gigs.

MORE MUSIC AND NIGHTLIFE

MUSIC AND CLUBS LISTINGS

The Mad Seduction of Italy
In Vito Veritas grants us moderns an introduction to the Dionysian festivals of yore.

BOOK A RESTAURANT RESERVATION

FIND A RESTAURANT REVIEW

Musical Wave
The Cabrillo Festival of Contemporary Music announces a big set of premieres for summer concerts.
Letters to the Editor
May 9-16, 2007.