March 14-21, 2007
home | the papers | metro santa cruz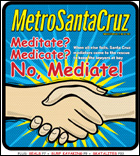 Lawyers and Courts May Break My Wallet, But Words Will Never Hurt Me
Local mediators provide an alternative to the cycles of escalating conflict and cash sinkhole that are our legal system.

Flipped Out
A seal flees through the streets of Sunnyvale, while a record number are having to be rescued along the coast. What's up with Bay Area pups?
Kayak's Up!
Three-day festival will draw top surf-kayak competitors from around the world.
Nūz: Santa Cruz News and Politics
Paranoid times.

Review: 'Breaking and Entering'
Anthony Minghella's latest movie offers filmgoers another lesson in urban symbiosis.
Review: 'Miss Potter'
Renée Zellweger's latest movie puts the bounce back in Peter Rabbit's creator.
Review: 'Zodiac'
Fincher's police procedural on the Bay Area killer celebrates details but questions obsession.

MORE MOVIE REVIEWS

SANTA CRUZ COUNTY MOVIE TIMES

The Skatalites
They return to show their offspring how it's done.
Mūz: Santa Cruz Media, Music and Arts
Weed City USA.
Music and Nightlife Calendar Picks
Our critics pick this week's most interesting gigs.

MORE MUSIC AND NIGHTLIFE

MUSIC AND CLUBS LISTINGS

The Falafel Hut
The taste of Lebanon comes to Santa Cruz.

BOOK A RESTAURANT RESERVATION

FIND A RESTAURANT REVIEW

Books: 'The New Adventures of Jesus'
Fantagraphics brings back Frank Stack's seminal underground comic.
Letters to the Editor
March 14-21, 2007.