March 14-21, 2007
home | metro santa cruz index | music & nightlife | mūz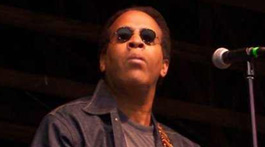 Return from Forever: Stanley Clarke managed to give fusion a good name at the Kuumbwa on Monday, while his son gave an onstage shoutout to Santa Cruz agriculture.
Mūz
Weed City USA
By Bill Forman
When we interviewed five Santa Cruz promoters for our cover story last fall, they all raved about what an amazing town we have that can host dozens of touring artists just about every week. All that was borne out this past week as we caught stellar shows by Willie Porter, Thomas Dolby and Stanley Clarke. But, if musicians' onstage comments are any indicator, it isn't just music that's making Santa Cruz famous. It's also the pot.
"If you go to Santa Cruz, would you score me a bag?" intoned Porter during one of the more improvisational songs in his solo set at the Attic Thursday. Accompanied only by his trusty 12-string "Betty" and an ingeniously employed looping device, the Milwaukee troubadour managed to sound like a full band without ever slipping into novelty terrain.
Except, of course, when he wanted to; in concert, Porter always makes it a point to improvise an entire song in real time, asking his audience to suggest a subject, a musical style and maybe a subplot or two. The Attic crowd offered up a half-dozen or so bizarre suggestions, including Anna Nicole Smith (whom Porter likened to the reincarnation of Elvis) and astronauts in diapers (which turned out to be the primary theme of an amazingly literate yet scatological little ditty).
Amazingly, Porter is also capable of profound depth, which he ably demonstrated on brilliantly constructed songs like Unconditional and Breathe. He told how he wrote the latter song when he got lost on tour and, rather than get directions, pulled off the road to call his sister and complain. His sister, who was battling cancer at the time (she won), told him that one day he would actually stop for a full breath of air, and while Porter got over feeling stupid and self-absorbed, he wrote the song there along the side of the road.
Porter, it turns out, wasn't the only one inhaling. "Y'all got the best weed," confirmed Stanley Clarke's son from the Kuumbwa stage Monday night after delivering his father's upright bass midway through a set that started off with the bassist's signature "Lopsy Lu," as well as covers of Charlie Parker's "Confirmation" and Charles Mingus' "Goodbye Pork Pie Hat."
Clarke's five-piece outfit, who are currently recording an album, included keyboardists Phil Davis and Ruslan Sirota (whom Clarke introduced as being "from the country of Israel"), violinist Mads Tolling ("from the country of Denmark") and drummer Ronald Bruner ("from the country of Compton"), who may just be the funkiest drummer this side of Clyde Stubblefield.
Clarke also performed his own homage to John Coltrane, noting the bandleader's passage from this world some 40 years ago. In his introduction, he told how he was in a club recently where Coltrane's name was met with stone silence from the audience. Clarke swore then and there that if he were ever to have that happen to him in a jazz club, he'd "give up the bass--and start playing the drums." The last part of Clarke's remark was accompanied by a glance at Bruner, possibly because the drummer had just smoked him with an over-the-top solo that drove the Parker tune out of the stratosphere. But Clarke got him back soon enough in what turned out to be a stunning set of brilliant arrangements and solos.
For further reading:
Stanley Clarke (Metro Santa Cruz Interview)
Willie Porter (Metro Santa Cruz Interview)
Book 'Em (Round-table discussion with Santa Cruz music promoters)
Send a letter to the editor about this story.