February 7-14, 2007
home | the papers | metro santa cruz
Vote Online
Cast your ballot online for the Goldies, which honor the best arts, people and places in Santa Cruz and the Central Coast.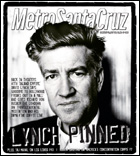 David Lynch Q&A
The director of 'Mulholland Drive' and 'Inland Empire' talks about TM, bovine PR and a damn fine cup of coffee.
A young person's guide to the films of David Lynch
What are Lynch films? Theaters of decay, celebrating the rot and detritus of industrial culture.

'America's Concentration Camps'
Karen Ishizuka speaks at UCSC on the use of national security as an excuse for racial profiling, then and now.
Nūz: Santa Cruz News and Politics
Catching up with Santa Cruz Mayor Emily Reilly.

Movie review: 'Blood and Chocolate'
It howls at the full moon, but tastefully.

MORE MOVIE REVIEWS

SANTA CRUZ COUNTY MOVIE TIMES

Taj Mahal
The folk blues titan distances himself from the recording industry treadmill.
Santa Cruz Baroque Festival
Lutes take their revenge on violins as the festival kicks off its new season.
Mūz: Santa Cruz Media, Music and Arts
Norton and Roy shake their money makers.
Music and Nightlife Calendar Picks
Our critics pick this week's most interesting gigs.

MORE MUSIC AND NIGHTLIFE

MUSIC AND CLUBS LISTINGS

Haute Enchilada
Soak up art history and mole sauce at this Moss Landing destination.

BOOK A RESTAURANT RESERVATION

FIND A RESTAURANT REVIEW

Letters to the Editor
February 7-14, 2007.