February 14-21, 2007
home | the papers | metro santa cruz
Vote Online
Cast your ballot online for the Goldies, which honor the best arts, people and places in Santa Cruz and the Central Coast.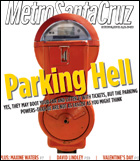 Parking enforcement
Despite the dreaded boots, indiscriminate tickets and angry mob of citizens outside their downtown fishbowl, they're not the fascists you might think.

Rep. Maxine Waters
She talks about post-Katrina politics, the race for president and how Democrats can step up to the plate on issues like Iraq.
Santa Cruz Sentinel
The paper departs its distant corporate owner and joins the growing MediaNews empire.
Nūz: Santa Cruz News and Politics
Your land is my land.
Valentine's Day
From a Watsonville house of ill repute to free weddings at the Santa Cruz County Building, the good, bad and occasionally ugly history of V.D. here and beyond.

Cult Leader: True teen crime from 'Over the Edge' to 'Alpha Dog'
The 'JD' movie has a remarkable history stretching back to the bug-eyed camp of 'Reefer Madness.'

MORE MOVIE REVIEWS

SANTA CRUZ COUNTY MOVIE TIMES

David Lindley
The jack-of-all-strings (and master of many) holds forth on turning 60, making history and bopping till you drop.
Drag the River
The punk lifers confound the die-hards with their deep-South twang.
Mūz: Santa Cruz Media, Music and Arts
Robert Anton Wilson will have his send-off party Sunday at the Cocoanut Grove.
Music and Nightlife Calendar Picks
Our critics pick this week's most interesting gigs.

MORE MUSIC AND NIGHTLIFE

MUSIC AND CLUBS LISTINGS

Sri
Still no alcohol, but plenty of delectable sauces to choose from on the expanded dinner menu.

BOOK A RESTAURANT RESERVATION

FIND A RESTAURANT REVIEW

Letters to the Editor
February 14-21, 2007.