February 28-March 7, 2007
home | the papers | metro santa cruz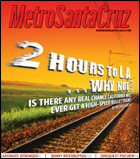 2 Hours to L.A. ... Why Not?
Is there any real chance California will ever get a high-speed bullet train?

Michael R. Klein
Founder of the nonprofit investigative Sunlight Foundation, Klein has made some other curious choices.
Nūz: Santa Cruz News and Politics
Sprenger flows, Stone bows.

Review: 'The Lives of Others'
In this Best Foreign Film Oscar winner, the all-seeing eye of Communism blinks in East Germany, 1984.
Cinequest 2007: Insider's Guide
Week One.

MORE MOVIE REVIEWS

SANTA CRUZ COUNTY MOVIE TIMES

The Cuban Cowboys
The world's greatest Cuban surf rock band teaches indie rock how to mambo.
Mūz: Santa Cruz Media, Music and Arts
Bunny Wailer showed off the gift of herb Friday night at the Civic.
Music and Nightlife Calendar Picks
Our critics pick this week's most interesting gigs.

MORE MUSIC AND NIGHTLIFE

MUSIC AND CLUBS LISTINGS

Country Court Tea Room
A genteel escape is guaranteed at Capitola's classy Tea Room.

BOOK A RESTAURANT RESERVATION

FIND A RESTAURANT REVIEW

Queer Queens of Qomedy
Touring queer comics pride themselves on being able to make anyone laugh.
Letters to the Editor
February 28-March 7, 2007.