February 21-28, 2007
home | the papers | metro santa cruz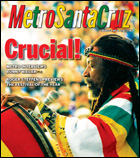 Bunny Wailer
The sole surviving Wailer on politics, prison, music and Marley.

Incarcerated mothers
Panel will consider effects of criminal justice system on families.
Women, witches and widows
Angela Mason attempts to spark a witch liberation movement.
Nūz: Santa Cruz News and Politics
Homeless.

Review: 'Amazing Grace'
Michael Apted's newest traces the history of the hymn with the history of Britain's end to slavery.

MORE MOVIE REVIEWS

SANTA CRUZ COUNTY MOVIE TIMES

Santa Cruz Dayz
A critic's guide to this week's crucial reggae festival.
Robert Earl Keen
That English degree is finally getting him somewhere.
Mūz: Santa Cruz Media, Music and Arts
Grammys vs. Rock 'n' Roll Hall of Fame: One sucks, the other doesn't.
Music and Nightlife Calendar Picks
Our critics pick this week's most interesting gigs.

MORE MUSIC AND NIGHTLIFE

MUSIC AND CLUBS LISTINGS

Johnny's
The wraparound view of the harbor is a sure cure for stress.

BOOK A RESTAURANT RESERVATION

FIND A RESTAURANT REVIEW

Letters to the Editor
February 21-28, 2007.