February 21-28, 2007
home | metro santa cruz index | music & nightlife | preview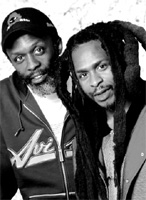 Steel Pulse: They may have ditched the Ku Klux Klan regalia, but David Hines and company can still kick out the anthems.
The Rest of the Fest
A critic's guide to this week's crucial Santa Cruz Dayz reggae festival
By Roger Steffens
It's no secret that Santa Cruz was one of Bob Marley's favorite places to play. Softened up by an early embrace of the rasta/reggae invasion that began in 1973, Cruzites were lucky enough to have first-rate radio programs like Lance Linares' Roots Rock Reggae. His Friday night sessions on KUSP, begun in 1974, continue to this day. The rootical orientation of Lance and others hip to the trip meant that not only the leading lights of the Movement of Jah People were heard here, but also many lesser known and often more compelling artists as well.
We think of the period from 1968, when the music was born in the smoky studios of Kill-some City (the local slang for Kingston), through 1976 when the international breakthrough had been accomplished, as the Golden Age of Reggae. Several of its most compelling artists will be coming to town to play the same Santa Cruz Civic stage on which the reggae king himself had appeared. The event is the Second Annual Santa Cruz Dayz: A Two Day Celebration of Robert Nesta Marley, and it will be your great loss if you miss it. As the recent deaths of superstars like Joseph "Culture" Hill and Desmond Dekker indicate, fewer of the groundbreaking performers remain among us, and their numbers are rapidly dwindling.
Thursday, Feb. 22
Headlining Thursday, Feb. 22's show will be British reggae pioneers Steel Pulse.
Told by Island Records' founder Chris Blackwell, back at the dawn of the '80s, that they didn't have an American audience, Steel Pulse then signed with Elektra Records in Hollywood, and made their American breakthrough with a massive-selling U.S debut album called True Democracy. The all-killer-no-filler collection contained some of their finest works, anthemic tunes like "Ravers," "Rally Round" and "Blues Dance Raid." The group has been festival headliners ever since, through a variety of lineup changes, with leader and composer David Hines remaining at its pulsating core. His stovepipe locks have long since collapsed under their own weight, but he continues to challenge listeners to become politically active and to fight corruption and racism at all levels, with inspiring tunes and innovative staging. Longtime Pulse fans recall the early days when, in the midst of their song "Ku Klux Klan," one of their members would leap onstage in full hooded Klan regalia, to gasps of astonishment from unsuspecting crowds. It will be interesting to see what new surprises they may have in store this week.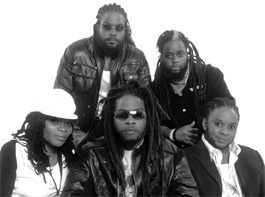 Morgan Heritage: Early reggae crossover artist Denroy Morgan sired two dozen kids, five of whom comprise this U.S.-based group.
To say that Morgan Heritage is a "Family Affair" would be stating the obvious. Early reggae crossover star Denroy Morgan has sired a creative brood of more than two dozen children, many of whom are involved in the music business. The Heritage sound combines four sons and a daughter (Peter, Gramps, Lukes, Mr. Mojo and Una) in a blend of hard modern roots. Though raised in the States, they have recorded with top-notch Jamaican producers in Jamdung including Bobby Digital, King Jammy, Xterminator and the Fire House Crew. Their father's lifelong musical tutelage shows in the professionalism of their live shows and tight harmonies, and we can expect to hear modern standards like "Don't Haffe Dread," which proclaims that it's not what's on your head but in your heart that makes you a true Rasta.
Six-foot-six above sea level, the lanky toaster-as-jester Eek-A-Mouse made a spectacular debut at Jamaica's Sunsplash Festival in 1981, winding his waist alongside a tiny dancer barely half his size as he sang his breakout hit, 'Wah Do Dem." The title means "How do they do it?" and the crowd roared its approval of Mouse's bawdy wine-and-grine antics. Since then, he has been a near constant presence on the American touring circuit, with a "sing-jay" style that combines vocals and raps about everything from his aged mother's hospital work to meeting his "brother" Mickey Mouse in Disneyland. Known for his outrageous costumes, from black and white horizontal-striped jail uniforms to massive Mexican mariachi hats, he has a deadpan humor that sets him apart from the mass of slack DJ artists who have come to the fore in recent years. But he's got a hair-trigger temper too, and has been known to storm offstage at perceived slights, so there's always an element (or "hellament" as he would say) of uncertainty and danger about his performances.
Reggae music lost one of its true giants last year, with the passing, on the road, of Joseph Hill, the eponymous leader of the highly regarded Culture trio. Hill penned the prophetic reggae standard "Two Sevens Clash," which may be the only song that ever closed an entire country for 24 hours, with its dire predictions of earth-shaking calamities in Jamaica on July 7, 1977. He was a member of the Roots Pantheon that includes Burning Spear, Toots Hibbert and Jimmy Cliff, artists who can always be depended upon to give 110 percent of themselves on stage, men who carry the templates of conscious roots music. They say in Jamaica that when one dies, two come to take his place. Since Joseph's death, his son has taken on the group's lead role, and early reports are that he does a wonderful job of standing in for a legend, continuing to expose the vast repertoire of classics created by his immortal dad. Backing band Resination is one of the Central Coast's greatest assets, an aggregate whose work is gaining an international following. Led by Vance Fahle, whose flexible vocals sound as if he were raised in the Blue Mountains, the group combines covers of some of JA's finest material with clever compositions of their own. When I was on the island of Guam earlier this month, I heard their music on the radio every day, and many locals considered Resination as one of their favorite groups.
Also featured on Thursday's bill are DJs Green Up Sound and Mountain Lion Sound.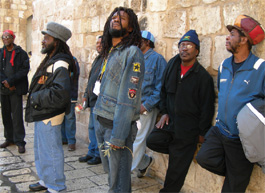 Gladiators: The purveyors of 'Oh Carol,' 'Bongo Red' and 'Roots Natty' are one of the few self-contained bands to come out of the studios of Kingston to tour the word.
Friday, Feb. 23
Friday, Feb. 23 brings us the only living Wailer (unless one counts "Vision" Walker, late of the extraordinary Santa Cruz-based band, the Rastafarians, who replaced Bob Marley in the group in 1966 for eight months, during Marley's first stint in America). Bunny Wailer (see interview) has a controversial career that has had more than its share of triumphs and disappointments. His gently seductive 1975 solo debut, Blackheart Man, is on most everyone's All-Time Top 10 Reggae Albums lists. He reached his peak in the early '80s with the dancehall classic Rock and Groove, followed in 1986 by the last significant work of his career, the Afro-centric Liberation. Determined in the late '80s to reinstall himself as the self-proclaimed King of Dancehall, he alienated his core audience, and failed to make a dent with the younger generation who favored a harder-edged, often slack and homophobic style. This misguided attempt culminated with him being bottled off stage at Kingston's annual Sting concert in the early '90s, by an angry crowd anxious to witness a confrontation between Beenie Man and Bounty Killer. His output has been slight and critically reviled since then, but in 2005 he released a hefty seven-CD compilation with four discs of previously-released Wailers and solo songs, coupled with three discs of spoken word rants against all those who have allegedly ripped him off. His live shows have followed virtually the same playlist for 20 years, but for those who have never seen him, he remains the closest one can come to experiencing the power of reggae's most important trio, backed by some of the same '60s musicians who were there with him at the start in Coxson Dodd's Studio One. And as he nears his 60th earth-day, he can still do the splits!
Very much the talk of the international reggae world in the past few years has been the Virgin Island invasion. Artists like I-Grade, Dezarie, Adja, Nyorah, Army and Bambu Station have branched outward and made friends and toured all over the Caribbean and Pacific Ocean. Chief among them is the St. Croix group, Midnite, led by the deep poetic chants of Vaughan Benjamin. They have had a major influence on everyone listed above, often swapping members in ever-evolving lineups. Their branches remain true to the roots.
Albert Griffiths' legendary harmony group, the Gladiators, is one of the few self-contained bands to come out of the studios of Kingston to tour the world. Exceptionally popular in Europe, where they frequently appear to this day, the Gladiators' sound is exemplified by tracks like "Oh Carol," "Bongo Red" and "Roots Natty." Signed to Richard Branson's prestigious Virgin label during the mid-'70s in the scramble to bring Jamaica's top artists to international attention, the group continues to forward the vibes of that crucial era. This is a rare chance to see foundation artists who are still capable of carrying the swing.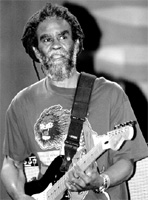 Twinkle Brothers: At their best, as great a band as Jamaica has ever produced.
Created more than 40 years ago in the verdant hills of Falmouth, on Jamaica's north coast, the "countryman vibrations" of the Twinkle Brothers are rooted in two brothers who lead the group--Oakland-based Ralston Grant, and his dynamic lead-singing sibling, Norman Grant. They have released more than seven dozen albums in their time, replete with forceful performances of timeless tunes like "Since I Threw the Comb Away," "Never Get Burn" and "Jah Kingdom Come." For many years, Norman has been based in England, using it as a base for European touring. He has performed extensively in Poland, making several notable albums with local musicians such as that country's famous folk fiddlers (in dub!). Brother Ralston has been a Bay Area mainstay with wife, Della, who will appear as well, and the chance to hear all of them together should not be missed. At their best, the Twinkle Brothers are as great a band as Jamaica has ever produced, and the affable Norman Grant is one of the finest singers in island history, a vocalist of great power and nuance.
Santa Cruz's own Soul Majestic with Prince Rastan features dual leads from Eric-I and Oriana Sanders, for a rootical sound that taps the universal themes of reggae in a thoroughly modern style, deemed by The Beat magazine's astute chief critic, Chuck Foster, as being "poised to inherit the top U.S. reggae band mantle." Their second album was recorded in the hallowed confines of Marley's own Tuff Gong Studio in Jamaica, alongside reggae greats like Sly & Robbie, Anthony B, and vintage percussionists Sticky Thompson and Bongo Herman. So impressed was Anthony B that he invited the group to open his late 2005 tour, sharing his band with them and highlighting a combo track they had recorded together called "Stand Up." Frequently featured at California's major festivals from Long Beach to Humboldt, Soul Majestic delivers the soulful sounds of Jah Music's new generation.
Rounding out Friday's lineup are the DJs from Massive Sound International and Bigga Happiness. The two-day fest is a sublime opportunity to witness living history by artists who follow Marley's divine dictum that "this music is not just for jollification, but for head-ucation too."
Santa Cruz Dayz: A Two Day Celebration of Robert Nesta Marley happens on Thursday and Friday (Feb. 22-23) at 7pm at the Santa Cruz Civic Auditorium, 307 Church St., Santa Cruz. Tickets are $40-$50, with pre-sale two-day passes for $70. (408.998.TIXS)
Roger Steffens is the co-writer, with Leroy Jodie Pierson, of 'Bob Marley and the Wailers: The Definitive Discography' (Rounder Books; 208 pages; 17.95 paper) and maintains a website at reggaesupersite.com.
Send a letter to the editor about this story.