February 21-28, 2007
home | metro santa cruz index | santa cruz county restaurants | review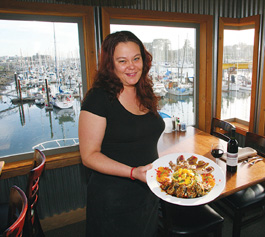 Photograph by Carlie Statsky
Room with a view: Johnny's wraparound view of the harbor is a sure cure for stress.
Harborside
Johnny's lives up to fond memories of Rosa's
By Selene Latigo
During the years I resided in Seabright one of my favorite things to do was walk down through the harbor and have a happy hour fresh mango margarita at Rosa's, gorging on their plethora of free chips and numerous salsas. Something about being perched up high above the boats with a wrap-around view straight out to the ocean always dissolved any distress, and those margaritas didn't hurt either. When you live in a town long enough, specific places can hold a lot of significance as time markers in your life. Rosa's is gone, but luckily the building and view remain at Johnny's, complete with a full bar for future happy hour reminiscences.
What brought us back here on a Monday night was their "Twenty Dollar Gourmet" deal, offering three courses with a paired glass of wine. Not only is this a good price but also a smart draw to lure people, like us, out at the beginning of the week on typically slow nights in the restaurant industry. A small, week-specific paper menu featured two items for each course, letting the diner retain some decision-making power. The regular menu is well appointed and diverse in terms of showcasing classic fish house dishes as well as incorporating some global flavors. And the wine list, though somewhat basic, is comprised of mostly local wineries, always a positive thing to support.
We began with a starter of calamari ($8), since it is the perfect season right now. The menu described this appetizer as "chili fried" although this was not apparent to us. However, the batter was seasoned well even without the expected hot pepper and shattered crisply. The actual squid was gigantic in size and quite tough, much different from the tender local morsels we've had recently. The dilled, lemon-spiked tartar sauce was great and I stored it away at a fork's distance to revisit throughout my whole meal.
Dave chose the $20 special, paired with the David Noyes Tocai that was just OK. He began with a salad of silky butter lettuce topped with earthy beet slices, blue cheese and candied walnuts, dressed lightly in a tart vinaigrette. This classic combination is an example of the balance that I always enjoy. Next came his cashew prawns, an Asian-style stir-fry of red peppers, green beans and cashew nuts in a sweet, thick teriyaki sauce. A scoop of simple steamed rice was perked up with a tangy fruit salsa on top, the cilantro brightening the whole dish. Only three small prawns adorned the plate, flavorful and well prepared as they were, but perhaps indicative of this inexpensive weekly deal.
I decided to sample an entree from Johnny's signature concept, "Fresh catch made your way!" Our server, who, I should mention, was always on the ball, helpful and friendly, told me the day's fish list to choose from, about six total. Selecting the local black cod ($16) for its extremely high Omega 3 potency, I then chose the cooking method, broiled, out of three preparation choices. Finally, from the accompaniment category with four themes to choose from, I went with Mediterranean. The fish was cooked perfectly, flaky and moist, with a crisp golden broiled surface. A couple of dried apricots, caper berries and grilled pepperoncinis adorned the top along with a drizzle of syrupy white-wine reduction, a combination that was appealing but kind of disparate from the flavor of the fish. On the side were some roasted potato chunks, lacking the garlic and herb notated on the menu but satisfying with that tartar sauce, and a zucchini half, cut vertically and grilled with melted cheese. The summer squash, along with Dave's veggies, didn't represent the seasonality expected from this "winter" menu.
Dessert was my favorite part of this meal, partly due to my sweet tooth, but also because my warm apple tartlet ($7) was excellent. A simple crust, more cookielike than pastry, was filled with a rich and dense almond paste and just a few thin slices of apple, browned nicely in the oven. A scoop of vanilla bean gelato sat on top, melding in with the drizzles of caramel sauce and crème anglaise. Dave's third course was a little scoop of Borgia gelato served in a frosty glass wine goblet, deep and dark with just a hint of orange. The twinkling hypnotic bob of the boats below and our desserts provided a sweet end to lighten the Monday dread.
---
Johnny's
Address: 493 Lake Ave. Santa Cruz
Phone: 831-479-3430
Hours: Sunday-Thursday, 11am-9pm, Friday-Saturday, 11am-10pm
Price Range: $6-$24.
Send a letter to the editor about this story.