March 14-21, 2007
home | metro santa cruz index | news | santa cruz | news article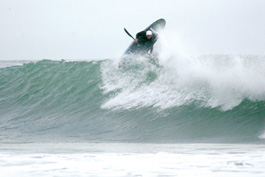 Look! Up at Steamer Lane! It's a bird, it's a plane, no, it's ... Surf Kayak!
Kayak's Up!
Three-day festival will draw top surf-kayak competitors from around the world
By Steve Hahn
Boundary dissolution is not a common theme in sports talk, but come this weekend, strange hybrid equipment will be ubiquitous along West Cliff Drive, triumphantly breaking the constrained categories of "kayak" and "surfboard."
They are surf kayaks. At first glance they may look like standard sea kayaks, but take a second look and you'll notice that they're actually quite a bit shorter, much flatter on the bottom and, wait, is that a fin?
The competitors and manufacturers at this year's 21st annual Surf Kayak Festival, taking place from Friday to Sunday at Steamer Lane, will be more than happy to talk you up on all the details of the sport and its craft. This is one of the largest competitions in the surf-kayak world, drawing participants from all over the world, and the organizers are throwing the festival, in part, to get the word out about the sport.
Event director Dennis Judson promises the event will be a good-spirited affair with plenty of prominent competitors and designers showing off what they've been working on in the last year. "Anybody who is anyone will be there," says Judson. "[This competition] is what the sport is. It helped create the sport, and it spurred the design of the surf kayak."
Competitors are drawn from such distances due to a lack of contests worldwide, the gorgeous weather and environment here in Santa Cruz and, perhaps most importantly, the unique fit that Steamer Lane provides for the sport.
Mary Arman, one of many volunteer organizers of the contest, explains: "It's great because the waves tend to wrap around the point," she says. "So you have a point break, which is a wonderful thing, because you can paddle around the breaking waves and get outside, and then catch the waves and surf back in. It's a great surf spot because there happens to be three breaks out along there. So on a bigger day, you can actually catch a wave outside and ride it all the way through."
The tournament is structured into a series of heats, with professional judges, mostly from the world of surfboarding, awarding points based on the categories of wave selection, take-off, maneuvers and how long the competitor rides the wave. The quarterfinals, semifinals and finals will all take place on Sunday.
Santa Cruz has a rich history when it comes to the spreading of both traditional and kayak surfing to distant lands. But, strangely enough, Judson and other surf-kayak missionaries have been surprised to discover that, in some cases, surf kayaking had already developed in some remote locations independently.
"It's a convergent evolution," says Judson. "We will compare designs, integrate what works and offer improvements."
Promoters promise a look at the latest steps in this evolutionary process in the form of newly designed kayaks and increasingly complex tricks.
"What happens at these contests is that people are looking for the hot new boats people have come up with," says Arman. "They're checking out boat designs, seeing what works and what doesn't. The competitors are looking for what people are now able to do on the waves: New moves, new tricks. One thing about surf kayaking that's really neat is that, since it's not a professional sport, people are pretty friendly and interested in sharing."
The sport is expanding into areas closer to home as well. Up on the UCSC campus, first-year environmental studies major and accomplished surf kayaker Galen Licht started a club through the recreation department last fall and has since attracted about a dozen students to come try the sport.
Galen, who has consistently placed high in international competitions as a member of the U.S. surf-kayak team, is eager to get in the water and test his mettle against the best in the world. "I'm looking forward to several big national names coming to the contest," he says. "It should be a great year."
Contest organizers hope that, in addition to some good-natured competition, the festival will provide a space for collaboration and the continuation of excellence within the sport. To this end, they created a novice category, which will surf on the north side of the surfer statue, where waves are substantially smaller.
Unfortunately, this year didn't attract as many entries in the novice category as organizers would have liked.
"Sea kayaking is a popular sport and river kayaking is growing in popularity," Arman says. "But the problem with surf kayaking is that you have to develop a bit of skill to do it, so it kind of ebbs and flows with how many people are learning."
Regardless of such minor concerns, organizers of the tournament are confident that 2007 will be a good year for hybrids.
"It's always fun and it brings out the best people in the world," says Licht. "It really showcases what's happening in surf kayaking."
The 21st Annual Surf Kayak Festival takes place Friday (starting at 7am) through Sunday, March 16-18, at Steamer Lane, near Lighthouse Point on West Cliff Drive, Santa Cruz. For more information, visit www.asudoit.com/kayak_fest.
Send a letter to the editor about this story.