April 25-May 2, 2007
home | the papers | metro santa cruz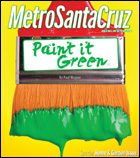 Home and Garden:
Paint It Green | Top 10 Garden Thoughts

Equal Pay for Equal Work?
SEIU 521 rallies for reform of temporary worker system.
From the Landscape Into the Forefront
'Pastures of Plenty' radio program focuses on the history, lives and achievements of migrant farmworkers in California.

Youth Empowering Youth
High School filmmakers draw on personal experience to uncover larger cultural trends.

MORE MOVIE REVIEWS

SANTA CRUZ COUNTY MOVIE TIMES

Changing Directives
Wilco's resident avant-garde shredder Nels Cline takes the spotlight.
Music and Nightlife Calendar Picks
Our critics pick this week's most interesting gigs.

MORE MUSIC AND NIGHTLIFE

MUSIC AND CLUBS LISTINGS

Cinnamon Girl
Exotic spices and ambience abound in these newly wed eateries.

BOOK A RESTAURANT RESERVATION

FIND A RESTAURANT REVIEW

A Lesson in Rhythm and Humility
Like Water Drum and Dance to bring West African-inspired choreography and percussion arrangements to second week of Santa Cruz Film Fest.
Letters to the Editor
April 25-May 2, 2007.