April 11-18, 2007
home | the papers | metro santa cruz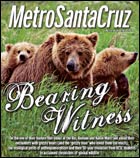 Kennan and Karen Ward
On the eve of their feature film debut at the Rio, the Wards talk about their encounters with grizzly bears (and the 'grizzly man' who loved them too much), the ecological perils of anthropomorphism and their 30-year evolution from UCSC students to acclaimed chroniclers of global wildlife.

Will the next hurricane be worse?
UCSC alumnus, hurricane evacuee discusses relief, recovery and his idea for preventing a repeat in post-Katrina New Orleans.
Nūz: Santa Cruz News and Politics
Train, train, train.

Movie review: 'Grindhouse'
The Rodriguez/Tarantino double feature delivers scratchy prints and guilty pleasures.

MORE MOVIE REVIEWS

SANTA CRUZ COUNTY MOVIE TIMES

Cowboy Junkies
On the eve of their Santa Cruz appearance, the Cowboy Junkies examine the ties that bind.
Mūz: Santa Cruz Media, Music and Arts
What the frak?
Music and Nightlife Calendar Picks
Our critics pick this week's most interesting gigs.

MORE MUSIC AND NIGHTLIFE

MUSIC AND CLUBS LISTINGS

Scopazzi's
Experience the rich history and consistent quality of this nearly century-old Italian eatery.

BOOK A RESTAURANT RESERVATION

FIND A RESTAURANT REVIEW

Christopher Swain
Filmmaker's tale of a man's 13-month swim down the Columbia River draws attention to environmental concerns.
Letters to the Editor
April 11-18, 2007.