March 21-28, 2007
home | the papers | metro santa cruz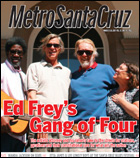 First Santa Cruz, Then the World
Ed Frey and his colleagues take to the streets for weekly 'o-rations and gy-rations' as part of an ambitious plan to hold politicians accountable to their constituents across the nation.

Dianne Feinstein resigns
Senator exits MILCON following Metro exposé, vet-care scandal.
Nūz: Santa Cruz News and Politics
General Pain.

Review: 'Shooter'
It aims high, hits low.
Review: '300'
Beware of Greeks wearing shifts.

MORE MOVIE REVIEWS

SANTA CRUZ COUNTY MOVIE TIMES

Santa Cruz Blues Festival
With Etta James, Los Lonely Boys and more.
Wanda Jackson
Unlike her old pal Presley, she's alive and well and still proving herself the queen of rockabilly, gospel and all points between.
Mūz: Santa Cruz Media, Music and Arts
Guns and guerillas.
Music and Nightlife Calendar Picks
Our critics pick this week's most interesting gigs.

MORE MUSIC AND NIGHTLIFE

MUSIC AND CLUBS LISTINGS

515 Cedar
A long wait and missing ingredients deters from an otherwise pleasant dining experience.

BOOK A RESTAURANT RESERVATION

FIND A RESTAURANT REVIEW

Letters to the Editor
March 21-28, 2007.