March 28-April 4, 2007
home | the papers | metro santa cruz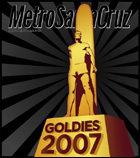 Goldies 2007:
Intro | Readers' choice | Burritos guide | Downtown public artworks | Downtown street performers | Late-night eateries | Low-budget weddings | Soup and sandwich spots | Taking the folks | Things to do with kids on holiday

A cure for the common health-care crisis?
A March 30 forum will bring together Santa Cruz leaders and proponents of Sheila Kuehl's universal health-care bill.
Nūz: Santa Cruz News and Politics
Dogfight.

Review: 'The Host'
A big mutant fish flops amok in this South Korean horror treat.

MORE MOVIE REVIEWS

SANTA CRUZ COUNTY MOVIE TIMES

Anoushka Shankar
Following last year's stunning appearance with her father, Ravi, and their Festival of India tour, Shankar is returning to Santa Cruz for a more experimental date at the Rio Theatre.
Mūz: Santa Cruz Media, Music and Arts
Soto Zen teacher Cheri Huber comes to Inner Light Ministries Thursday.
Music and Nightlife Calendar Picks
Our critics pick this week's most interesting gigs.

MORE MUSIC AND NIGHTLIFE

MUSIC AND CLUBS LISTINGS

Mangiamo
A comfortable and jovial home away from home for Italian food lovers.

BOOK A RESTAURANT RESERVATION

FIND A RESTAURANT REVIEW

'Young Caesar'
Lou Harrison's opera is coming to UCSC, minus the marionettes.
James D. Houston
His new novel explores the links between the death of the king of Hawaii and the rise of the state of California.
Letters to the Editor
March 28-April 4, 2007.