May 2-9, 2007
home | the papers | metro santa cruz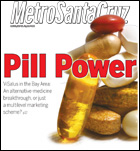 Pill Power
ViSalus has taken root in Silicon Valley. Is it a brave new world of health and success, or just a pyramid scheme?

Exit Strategy
What really made the military pull out of UCSC's job fair?
Nūz: Santa Cruz County News Briefs
Form vs. Function, Part 2.

'Spider-Man 3'
Hubris, hubris. Spidey gets a big head and ruins a perfectly good trilogy.
'Black Book'
Paul Verhoeven gives World War II a 'Showgirls' sheen.
Cult Leader
A former confidence man rates the great con flicks.

MORE MOVIE REVIEWS

SANTA CRUZ COUNTY MOVIE TIMES

Music and Nightlife Calendar Picks
Our critics pick this week's most interesting gigs.

MORE MUSIC AND NIGHTLIFE

MUSIC AND CLUBS LISTINGS

Home-Spun Spoon
Aptos' Bleu Spoon is comfort food with a twist.

BOOK A RESTAURANT RESERVATION

FIND A RESTAURANT REVIEW

Letters to the Editor
May 2-9, 2007.