January 16-23, 2008
home | the papers | metro santa cruz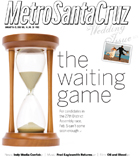 The Waiting Game
The Feb. 5 term limits initiative has Santa Cruz and Monterey candidates for Assembly cooling their heels.
The Matrimonial Morass
A Santa Cruz couple recalls the wedding madness that took them by surprise.

Nūz: Santa Cruz County News Briefs
An Indy media conference heads to town, Highway 1 widening is dealt a severe blow, the county and affordable housing advocates head to court again, Nuz gets the scoop on the state budget, and more.

There Will Be Blood
In this oil epic, director Paul Thomas Anderson finally finds his film.

MORE MOVIE REVIEWS

SANTA CRUZ COUNTY MOVIE TIMES

What's in Fred's Head?
On his way to Santa Cruz, Fred Eaglesmith talks about fans, change and singing 'gospel without Jesus'
Mūz
Santa Cruz hip-hop mavens Serendipity Project finish their tour with Del Tha Funkee Homosapien.
Music and Nightlife Calendar Picks
Our critics pick this week's most interesting gigs.

MORE MUSIC AND NIGHTLIFE

MUSIC AND CLUBS LISTINGS

One Dish, Two Dish
A superb evening at Santa Cruz's Star Bene.
Dish
Get Your TLC Pork Here!

BOOK A RESTAURANT RESERVATION

FIND A RESTAURANT REVIEW

Unbound
An assortment of new books mines history, the imagination and travel.