July 25-August 1, 2007
home | the papers | metro santa cruz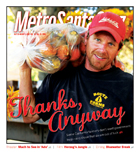 Tough Row to Hoe
California farmers will get more out of this Farm Bill than ever before—but that's not saying much

A Tale of Two Cities
New Urbanism and New Urbanism Lite come to Santa Cruz County
Nūz: Santa Cruz County News Briefs
The Mediator.

Review: 'Rescue Dawn'
Werner Herzog dares to go back to the jungle in 'Rescue Dawn'
Solar Perplexus
'Sunshine' fails to illuminate Danny Boyle's murky ideas about humanity.

MORE MOVIE REVIEWS

SANTA CRUZ COUNTY MOVIE TIMES

Mūz: Santa Cruz Media, Music and Arts
Ryan Adams and the Cardinals rocked the Catalyst with songs from the new release 'Easy Tiger.'
Music and Nightlife Calendar Picks
Our critics pick this week's most interesting gigs.

MORE MUSIC AND NIGHTLIFE

MUSIC AND CLUBS LISTINGS

A Blue Ribbon for Bluewater
Surf 'n' turf gets a welcome image makeover at Bluewater Steakhouse

BOOK A RESTAURANT RESERVATION

FIND A RESTAURANT REVIEW

Just Enough Ado
Not too jarring, not too tame, Shakespeare Santa Cruz's 'Much Ado About Nothing' strikes the perfect comic note
Kate the Great
Cabrillo Stage's 'Kiss Me, Kate' rings the bell with wit, verve and sex appeal
Letters to the Editor
July 25-August 1, 2007.