July 4-11, 2007
home | the papers | metro santa cruz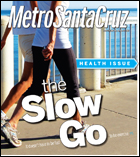 Health Issue
Walking puts about half as much stress on joints as running. And it looks really cool. Plus: yoga teacher Kofi Busia provides Santa Cruz with a direct line to the carefully codified teachings of B.K.S. Iyengar.

Hitting the Funding Vein
With a new state initiative, needle-exchange programs finally get what they really need from government: money.
Nūz: Santa Cruz County News Briefs
Ch-ch-changes over at the Santa Cruz Sentinel.

Review: 'Paprika'
This animated cross between Audrey Hepburn and Dr. Strange is the only superhero who matters this summer.
Do As the Romany
'Gypsy Caravan' follows the fortunes of five remarkable bands.

MORE MOVIE REVIEWS

SANTA CRUZ COUNTY MOVIE TIMES

Mūz: Santa Cruz Media, Music and Arts
Slim Cessna's Auto Club is one of the last relevant cowpunk bands.
Music and Nightlife Calendar Picks
Our critics pick this week's most interesting gigs.

MORE MUSIC AND NIGHTLIFE

MUSIC AND CLUBS LISTINGS

Carnitas Knowledge
A chance meeting with braised pork changes a woman's life.

BOOK A RESTAURANT RESERVATION

FIND A RESTAURANT REVIEW

Triple Crown
Three local artists bring their latest creations to Felix Kulpa Gallery.
Flower Power
Cabrillo Stage hits the mark with 'Little Shop of Horrors.'
Letters to the Editor
July 4-11, 2007.