May 16-23, 2007
home | the papers | metro santa cruz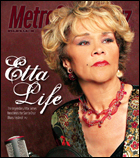 Still raging
Etta James brings all her signature soul and sass to the Santa Cruz Blues Festival.
Deep roots
The best and the rest at this year's Santa Cruz Blues Fest.

Future shock
How a revolutionary Bay Area-based survey of young people used high tech to capture a surprising snapshot of the up-and-coming generation.
Nūz: Santa Cruz County News Briefs
Let's make a new deal.

Summer 2007 movie preview
If this summer looks like summers past, blame it on the sequels.
'Waitress'
Pie-eyed and pie-faced Keri Russell tries to embody the spirit of the little people.
Cult Leader
R.I.P. Bob Clark.

MORE MOVIE REVIEWS

SANTA CRUZ COUNTY MOVIE TIMES

Music and Nightlife Calendar Picks
Our critics pick this week's most interesting gigs.

MORE MUSIC AND NIGHTLIFE

MUSIC AND CLUBS LISTINGS

Currying favor
Sawasdee is Thai that is just a friend you haven't met.

BOOK A RESTAURANT RESERVATION

FIND A RESTAURANT REVIEW

Left-wing behind
John Shirley dives into 'The Other End' in new sci-fic novel.
Letters to the Editor
May 16-23, 2007.