May 16-23, 2007
home | metro santa cruz index | santa cruz county restaurants | review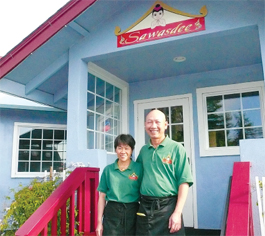 Photograph by Ronit Taggart
Over the river, up the hill: Sawasdee owners Bill and Dee greet you with friendly gusto as you enter, conjuring up memories of homely visits with distant relatives.
Currying Favor
Sawasdee is Thai that is just a friend you haven't met
By Denise Vivar
There are no strangers at Sawasdee, only fellow diners you haven't yet met. They let themselves in and pull up a chair, often coming through the back door as if they're old friends. One of the owners, Bill or Dee, will greet you as you make yourself comfortable at one of this diminutive restaurant's cozy tables. "Sawasdee" is a graceful Thai greeting which in a word encompasses "hello", "goodbye" and "welcome," and welcome is the first dish you're served here just up the hill from Soquel village.
During our brief taste of summer recently, thoughts of warmer climes and a more languid life lured me to the doors of Sawasdee for an evening of Thai hospitality. Our host greeted my friend Purna and me as we entered and walked with us to our table, and then presented us with our menus like a mayor handing us the key to his city. As he headed back to the kitchen Purna remarked that he had acted as if he were expecting us, and it was true--our waiter seemed to exude a preternatural sense of knowing and expectation.
I usually try to fight the urge to order my favorite dishes from a restaurant knowing well that I could be short-changing myself in the garden of new delights and variety. No fresh spring rolls again, I warned myself. And don't even think about pad thai.
A nudge with the menu from Purna and a patient smile from Bill broke me from my internal debate and we ordered drinks to start. I ventured away from the popular Singha ($3.50) and gamely ordered the new brew Phuket ($3.50). I found it quite suitable. Purna preferred the Singha.
As we enjoyed our respective beers, our plate of fried fish cakes ($6.95) arrived. I could not discern what kind of fish I was tasting in these spongy puck-sized cakes, and Bill was not going to enlighten us.
"It's a secret," he demurred, "even I don't know what is in them."
He explained that it takes a special mixture of fish to get the cakes to hold together as they do and the proprietary ingredients, a mixture of three fish, were ground to a paste and shipped frozen to Thai restaurants where chefs mixed in their own spices and sauces.
It was Purna who suggested the fresh spring rolls ($3.95, half order) and who was I to say no? Generous portions of crisp shreds of cabbage, tofu and aromatic mint leaves were neatly bound with carrot and cucumber in sheets of fresh rice paper. The accompanying sauce had a robust peanut taste with a red pepper zing.
After the soups, salads, appetizers, special pho (Thai noodle soups) and special noodles, there is a mind-boggling list of choices among curries, seafood, meats, more noodle dishes, rice dishes, veggie dishes, plus house specials and chef specials. We cast our net for the salmon chu chee ($14.95) and the sawasdee fried fish ($14.95) to Bill's approval.
Fearing that the sauce might be too spicy in the salmon chu chee, I asked for a mild version. Bill wanted me to taste the dish as it is meant to be served and assured me that if I didn't like it he would take it back and cook it to order. It turned out to have just the perfect level of heat. Chunks of wild grilled salmon lay among green beans, peppers and carrots in a lively red curry sauce. Though the salmon was slightly dry we ate every piece, bathing them in the tasty curry and leaving much of the vegetables behind for later.
The sawasdee fried fish is a boneless trout deep-fried in a medium panko-style crumb. The fish fillet was tender and the crust amazingly light and did not suffer from the frying. Fresh mint leaves, strings of apple, cilantro, cashews, roasted chili and onion blanketed the entire fish and was an exotic and delicious partner for the trout. A sweet and spicy sauce accompanies the dish.
For dessert, Bill recommended the sweet rice and mango ($5.95), remarking that it is a very special dessert and asserting that Sawasdee's was the best in town. An unassuming plate it was--an amorphous sprawl of sticky rice sprinkled with sesame seeds next to half a mango. Yet this little dessert was mighty. The rice was a rather addicting sweet treat, not overly chewy, and the mango made a succulent partner.
It's amazing to me that so many dishes can come out of such a (relatively) small country. In just the entrees alone I counted 87 dishes. Add the various permutations of choices with chicken, prawns and tofu and you could spend a lifetime of gustatory exploration right here in the little house on the hill.
---
Sawasdee Thai Cuisine
Address: 5050 Soquel Drive, Soquel
Phone: 831.462.5051
Hours: 11am-9:30pm Sun-Thu, Sat 11am-10pm Fri
Send a letter to the editor about this story.