May 16-23, 2007
home | metro santa cruz index | music & nightlife | preview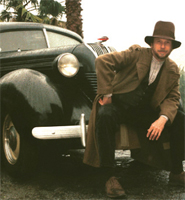 Slide into bliss: Legendary slide guitarist Roy Rogers will kick off the Blues Festival this year.
Deep Roots
The best and the rest at this year's Santa Cruz Blues Fest
By Paul Davis
After booking the likes of B.B. King, Ray Charles, Buddy Guy and Los Lobos in recent years, it seems as though the festival raises the ante each year with increasingly impressive lineups, drawing world-class performers to the Santa Cruz area who may not have appeared in town in decades. Last year's lineup was a tough one to top indeed, but this year's may be the most well-rounded yet, drawing together the legendary likes of Etta James, respected outfits such as Little Feat and a handful of up-and-coming artists who are taking the blues into unexpected new territory.
Saturday
The Festival kicks off Saturday, May 26, with Roy Rogers and the Delta Rhythm Kings, a seven-piece lineup known for their searing renditions of traditional jump blues and swing forms. Slide guitar maestro Rogers, who leads the band, is widely regarded as one of the most impressive contemporary practitioners of traditionalist blues, which earned him a W.C. Handy nomination for Best Blues Guitar Artist in 2003. Following Rogers will be Sonny Landreth, a slide player whose unique fretting has inspired mystery and amazement from some of the best in the industry. Landreth has wowed the likes of Buddy Guy and Eric Clapton, who once noted that he is "probably the most underestimated musician on the planet and also probably one of the most advanced."
Sacramento wunderkind Jackie Greene performs third on Saturday. Greene has tried his hands at numerous Americana traditions, from early folk-blues and classic honky-tonk, to sometimes mixed results, but seems to have settled into a far more complementary style on his recent Verve release, American Myth, which draws deep upon electric blues traditions as refracted through the lens of '60s and '70s rock. Following Greene is Indigenous, a polymath blues outfit led by Mato Nanji that festival organizer Bill Welch described to Metro Santa Cruz in March as "the future of the rockin' blues." The three brothers who comprise the band grew up on South Dakota's Yankton Indian Reservation and turn out muscular blues-rock that draws upon their Native American heritage, all while harking back to the incendiary and nimble guitar work of Robert Cray and Jimi Hendrix.
Texas folk-blues trio Los Lonely Boys headline on Saturday. The group, championed by Willie Nelson early in their career, had an unexpected pop hit in 2005 with "Heaven" off the group's self-titled debut. The success was one of those unusual circumstances where the pop charts actually celebrate serious musicians, and even if they never again hit such dizzying heights, the group is entrenched for the long haul with a potent blend of rocking blues, country and folk, and Tejano.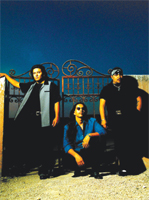 Notable praise: Los Lonely Boys arrive at the festival with the blessings of Willie Nelson, and when has Willie ever steered us wrong?
Sunday
The Sunday, May 27, lineup begins with young traditionalist Nina Storey, a precocious blues and soul belter who pays homage to the great female singers before her while retaining a markedly contemporary sensibility. Janis Joplin is a common reference point, though Storey reaches much further back than that, harnessing no small amount of the soul and grit of the classic blues ladies. Storey is followed on Sunday by the pride and joy of the Bay Area blues community, the Tommy Castro Band. Since the mid '90s, Castro has made waves in the contemporary blues world with a soulful take on blues-rock that has garnered positive comparisons to Albert Collins, B.B. King and Robert Cray. Castro has earned the distinction of having a day dedicated to him by the city of San Francisco (Oct. 14, for those who would like to observe it,), but recent months may prove to be the pinnacle of Castro's career, as his new release, Painkiller, rises to the top of the Billboard Blues Chart.
Castro is followed by another Bay Area bluesman, the jazz-inflected blues guitarist Robben Ford. Ford earned his sea legs at the age of 18 playing in Charlie Musselwhite's band, but came into his own in the mid-'80s with his work with Miles Davis and as the leader of his own Robben Ford band. It's been noted on many occasions that the late Mike Bloomfield inspired Ford to pick up the guitar and begin picking, sometimes to the detriment of acknowledging the profound influence of jazz players such as Ornette Coleman, Roland Kirk and John Coltrane on his work. Ford is currently touring behind Truth, a politically charged work that finds the player experimenting with new textures and influences to establish a thoroughly modern blues sound.
Little Feat appears as the festival's penultimate act, boasting a lineup that features founding member Bill Payne and longtime Feat-er Paul Barrere (bandleader Lowell George passed away in 1979). The group has developed considerably since its early days as a bluesy offshoot of Frank Zappa's Mothers of Invention, establishing an unmistakable sound that draws upon Southern boogie and deeply soulful blues driven by a limber funk backbeat. It's been nearly two decades since this current incarnation of Little Feat formed, meaning that version two has been around twice as long as the original, and for many, the current lineup has respectfully paid tribute to George's idiosyncratic vision while constantly staying nimble on its toes and moving forward.
As a testament to festival organizer Bill Welch's impressive Rolodex and the respect the Santa Cruz Blues Festival has accrued, the incomparable Etta James appears as the Sunday night headliner. Fifty years into a career that has found James to be one of the seminal singers of her time, she remains as sassy and soulful as ever, throwing her take-no-prisoners, spitfire spark into the songs of Frank Sinatra, James Brown, Marvin Gaye and even Prince and R. Kelly on her most recent release, 2006's All The Way.
The Santa Cruz Blues Festival takes place Memorial Day Weekend, Saturday, May 26, and Sunday, May 27, at Aptos Village Park. Tickets are General $50 each day/$90 two days, Gold Circle $100 each day/$190 two days, under age 12 $20 each day/$30 two days; available at Moe's Alley and Streetlight Records, or through the website, www.santacruzbluesfestival.com. Gates open at 10am, the show begins at 11am and ends at 7pm. For more information, contact [email protected]
Send a letter to the editor about this story.