May 16-23, 2007
home | metro santa cruz index | music & nightlife | preview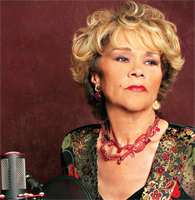 The resilent Ms. James: Etta James takes a brazen approach to life that has helped carry her through drug addiction, a bumpy musical industry and the challenges of being a female performer in mid-20th century America.
Still Raging
Etta James brings all her signature soul and sass to the Santa Cruz Blues Festival
By Paul Davis
There are few jazz or soul performers of the past five decades with the marquee value or the cultural impact of Etta James. Beginning with her '50s work with Johnny Otis and the Peaches, James has paved the groundwork for any number of soul archetypes--the sassy, brassy woman, the firebrand performer, the singular blues belter who hits the stage and lays it down just like it is. There are few performers that equal James' stature in American music, or who have lived--and emerged intact--from such a storied life or tumultuous career.
Now, James is eagerly awaiting her appearance at this year's Santa Cruz Blues Festival, which will be her first in-town appearance in years. Grateful to be performing for a crowd of dedicated blues enthusiasts, she laughs that she prefers an audience such as that at the Blues Festival, "because people coming will know what they're coming for, not some bourgeoisie thing--like someone singing some opera or something!" It's been a long time since James came to town.
"I love Santa Cruz," she reminisces. "That's a place that I haven't gone in a long time. I used to work the Catalyst. ... I'd get these gigs and would drive down in a little Volkswagen bus that would rattle the entire way down there. That was some ride! You've just got to enjoy that sort of ride," she laughs. "It was horrible!" James' vehicle is likely something a bit more upscale nowadays, but there's something uniquely characteristic in the image of her firing up a beat-up bus that shaked-and-rattled its way through the mountains to her next gig.
It's a nearly impossible task to distill James' career into a handful of factoids--she is far too expansive a figure in American music for any attempt to not come across as facetious. But for those catching up, a quick history will have to suffice. Born in 1938 in Los Angeles as Jamesetta Hawkins, James quickly became respected as a young gospel prodigy. After her family moved to San Francisco, James was discovered by seminal R&B bandleader Johnny Otis, with whom she recorded her breakout single "The Wallflower" in 1955. In her candid 1995 autobiography Rage to Survive, James pointed to this period as the time when she was introduced to drugs, igniting a profoundly destructive substance abuse problem that would haunt her for decades.
For a short time, James led the R&B vocal group the Peaches, a lineup that quickly disintegrated, though by that point she was on her way to bona fide stardom. With a sense of confidence, sass and fearlessness about her sexuality that was shockingly brazen by 1950s standards, James' pre-sexual-revolution stage presence and bold public figure were at least a decade ahead of their time. It's somewhat fitting, then, that it was in the early '60s that James truly came into her own as an iconic performer, particularly with the 1961 release of At Last for the Chess Records label, a release that would become a seminal album in the annals of soul and R&B music. Yet despite her emerging status as a living musical legend, James' tumultuous lifestyle and sometimes confounding career choices were already leaving some cracks in the veneer by the middle of the decade. She would enjoy another taste of success in 1967 with the Billboard hits "Tell Mama" and "Security." The success wasn't to last though: with James drowning in a morass of drug addiction and personal hardship, the '70s proved to be a lean period for her, a time when it seemed as though she had lost the plot, personally, musically and professionally.
It wasn't until the late '80s that James would rediscover her ballast with the 1988 release of Seven Year Itch. James had kicked her addictions and promptly reclaimed her place as one of America's most impressive interpreters of a song, all while re-establishing herself as an icon of take-no-prisoners, take-no-shit femininity. James has handled her comeback with remarkable candor, reflecting on those difficult years, all while retaining the spark and attitude that has become her signature. In the '90s, she dabbled in a number of new styles to varying levels of success--her forays into jazz have been a perfect fit for a supreme lady of soul, while forays into more contemporary sounds have come off as forced. In recent years, though, James' musical output has appeared to finally get back on track. The '03 release of Let's Roll and the '04 release Blues to the Bone comprised a one-two punch of fiery blues and soul which established that James was back in the ring, ready to throw down with any contenders. Her most recent release, 2006's All the Way, is far more restrained in its arrangements and reaches deeper into the well of contemporary pop than the two previous releases, but is far more consistent with James' body of work than her '90s efforts.
James takes no guff and doesn't suffer fools lightly, but in person she is a highly opinionated yet charming and engaging individual who tempers that irrepressible sass with a self-deprecating wit. The 69-year-old singer jokes about her age with the kind of candor and irrepressible spirit with which she once spoke of her difficulties with substance abuse. Acknowledging her age and joking about her sometimes spaced demeanor, James laughs, "People think I have Alzheimer's, I guess just because I'm kind of a dingy person? My personality sometimes is very dingy and sometimes it's very serious. Really, I'm not dingy! Every time I say something and it's something from the past [my publicist] looks at me with her eyes up and says, 'See, you don't have Alzheimer's!" James was urged to get a brain scan due to her age, which she begrudgingly agreed to do, yet there's no keeping the unimpeachable soul singer down. "We went into [the doctor's,] and he put me in a big round tube, we got out of there and the little old doctor said, 'You're fine, there's nothing wrong with you.'"
The frailties of aging aside, James has lost none of the spunk, spark or soul for which she is known, and is not going quietly into any good night, thank you very much. All the Way finds her mining some unexpected sources for material. While renditions of songs popularized by Frank Sinatra, Johnny "Guitar" Watson and Bobby Womack don't appear to be huge leaps for the versatile performer, covers of songs written by R. Kelly ("I Believe I Can Fly",) Prince ("Purple Rain") and Simply Red ("Holding Back the Years") are somewhat unexpected detours for James. The arrangements on All the Way are more subdued than on her classic or even recent releases, and the choices of source material a bit unexpected, but James scoffs at any presumptions that the likes of Prince or R. Kelly are too far removed from her sphere of recognition. "All the people on that album, they're people I really like, that I've had personal relations with," she notes, before scrupulously pointing out, "not intimate personal relationships though!"
And while purists who wish that James stayed rooted in the vernacular of her early work might take umbrage, James is quick to note that All the Way is unique among her entire discography in that she alone chose the material she interprets. "All of the artists, they were my personal picks," she says. "On my other albums, the artists weren't always my choice, but on this one they were." While the more contemporary song choices might garner the quizzical stares, the title track--an interpretation of a song that Frank Sinatra popularized--was a particularly personal choice for James, who notes that "I always wanted to sing like Frank Sinatra. My mother always loved Sinatra and [Nat King] Cole."
Despite the initial cognitive dissonance that might arise from a glimpse at the pop-heavy track listing, James insists that the songs are perfectly natural choices. "People keep on asking me [about the song choices]," she protests, "makes me think, 'Does it sound like me?' I don't know. I think people who ask that, they're the kind that like that down-home, talk-about-it, that kind of thing. They're looking for me to come on like gangbusters, but to me I am coming on like gangbusters."
James may be an icon, but she's a disarmingly straightforward and unpretentious one, willing to embrace her own myth, warts and all, while kicking out an unimpeachable sass and soul.
Send a letter to the editor about this story.