June 13-20, 2007
home | the papers | metro santa cruz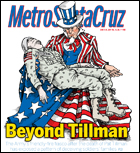 The Ballad of Pat Tillman
The football star–turned–soldier became the Pentagon's poster boy, and when he was shot dead by U.S. Army Rangers, the military said he was killed by enemy fire. The deception, it turns out, was not an isolated incident, but part of a pattern of keeping the truth from the families of war casualties—and the fallout has rocked the South Bay harder than anywhere else in the country.

Start Small, Dream Big
A reasonable proposal for basic rail transit in Santa Cruz County.
Nūz: Santa Cruz County News Briefs
Well, it's time for battle-related updates, and Nūz has a feastful; in fact, an entire five-course meal. Bon appetit!

Movie review: 'La Vie en Rose'
A new biography of Edith Piaf lingers on the hard times and bad habits.
Cult Leader: 'Bug'
Buggin': The problem with movies that witness madness.

MORE MOVIE REVIEWS

SANTA CRUZ COUNTY MOVIE TIMES

Music and Nightlife Calendar Picks
Our critics pick this week's most interesting gigs.

MORE MUSIC AND NIGHTLIFE

MUSIC AND CLUBS LISTINGS

Tapas Fit for a King
Drop the ontological debate and tip back your glass at Bistro Al Mar.

BOOK A RESTAURANT RESERVATION

FIND A RESTAURANT REVIEW

'The Sopranos' series finale
The postmodern denouement to the HBO drama is brilliant, if unsatisfying.
Letters to the Editor
June 13-20, 2007.