May 30-June 6, 2007
home | the papers | metro santa cruz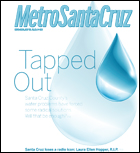 Tapped out
All over the county, fears about the viability of our water supply are forcing officials to take a new look at an age-old problem--and consider some radical solutions.

Cutting off the air
New rules for Internet radio royalties could kill the most dynamic innovation in the music industry.
Nūz: Santa Cruz County News Briefs
General Pain Part 2: The Vote Looms.

'Killer of Sheep'
A new print finally allows us to see Charles Burnett's famed 1977 feature.

MORE MOVIE REVIEWS

SANTA CRUZ COUNTY MOVIE TIMES

Mūz: Santa Cruz Media, Music and Arts
Laura Ellen Hopper, R.I.P.
Music and Nightlife Calendar Picks
Our critics pick this week's most interesting gigs.

MORE MUSIC AND NIGHTLIFE

MUSIC AND CLUBS LISTINGS

Belated fun
Manuel's in Aptos provides a comfortable ambience fit for any gathering.

BOOK A RESTAURANT RESERVATION

FIND A RESTAURANT REVIEW

Thai paradise
New Music Works creates a tropical wonderland of food and global music in Santa Cruz for its annual Avant Garden Party.
Letters to the Editor
May 30-June 6, 2007.