May 23-30, 2007
home | the papers | metro santa cruz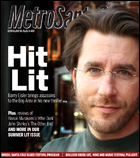 Summer Lit Issue:
'Requiem for an Assassin' | 'A Thousand Splendid Suns' | 'Lime Kiln Legacies' | 'Leni: The Life and Work of Leni Riefenstahl' | 'After Dark' | Literary shorts | 'The Other End' | Harry Potter | 'Red Eye, Black Eye' and 'Gangster Film Reader'

The play shall go on!
E3 Playhouse is granted mercy by Santa Cruz Planning Department and given two weeks to modify permit.
Nūz: Santa Cruz County News Briefs
Go round and round.

'The Valet'
This French comedy is already built for an American audience--no translation needed.

MORE MOVIE REVIEWS

SANTA CRUZ COUNTY MOVIE TIMES

Good Riddance
The band calls it quits.
Music and Nightlife Calendar Picks
Our critics pick this week's most interesting gigs.

MORE MUSIC AND NIGHTLIFE

MUSIC AND CLUBS LISTINGS

The heart of sweetness
Author and all-around food-lover Steve Ettlinger delves into the strange world of processed foods with his new book 'Twinkie: Deconstructed.'

BOOK A RESTAURANT RESERVATION

FIND A RESTAURANT REVIEW

Calling all eclectic free spirits
This weekend's Boulder Creek Art, Wine and Music Festival is right up your alley.
Letters to the Editor
May 23-30, 2007.