July 11-18, 2007
home | the papers | metro santa cruz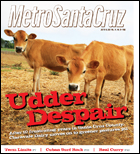 O give me a home
A small dairy in the Pajaro Valley seemed like a no-brainer. But in the end, Claravale's Ron Garthwaite fled the red tape of Santa Cruz County for a friendlier environment.

Coming to terms
In Sacramento, the battle intensifies over term limits and redistricting.
Nūz: Santa Cruz County News Briefs
Give 'em five.

Review: 'Broken English'
Parker Posey stars as a singleton under the influence.
Review: 'Eagle vs. Shark'
Animal crackers.
Cult Leader: 'Metalstorm' vs. 'Spacehunter'
'80s sci-fi that dared to suck in 3-D.

MORE MOVIE REVIEWS

SANTA CRUZ COUNTY MOVIE TIMES

The rustlers of rumba
Latino surf-rock mavens the Cuban Cowboys head for town with a broadly comedic shtick and a saddlebag full of styles.
Mūz: Santa Cruz Media, Music and Arts
Nostalgia: Not What It Used to Be.
Music and Nightlife Calendar Picks
Our critics pick this week's most interesting gigs.

MORE MUSIC AND NIGHTLIFE

MUSIC AND CLUBS LISTINGS

A flurry of curry
An adventurer returns from the subcontinent with spice on the brain and a recipe to share.

BOOK A RESTAURANT RESERVATION

FIND A RESTAURANT REVIEW

Letters to the Editor
July 11-18, 2007.