August 15-22, 2007
home | the papers | metro santa cruz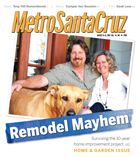 Love Nesting
One Santa Cruz couple have been remodeling their house for almost a decade–and they're still happily married

A Presence Missed
Santa Cruz locals remember a champion of the underprivileged
Nūz: Santa Cruz County News Briefs
Temps Rising

Movie review: 'Becoming Jane'
Anne Hathaway takes up pen and paper to portray beloved author.
The idiots
Two new comedies--'Hot Rod' and 'The Ten'--go lowbrow with high style.
Tongue-Tied
A master debater is stillborn in Jeffrey Blitz's high school drama 'Rocket Science'

MORE MOVIE REVIEWS

SANTA CRUZ COUNTY MOVIE TIMES

Mūz: Santa Cruz Media, Music and Arts
Reggae Musings
Music and Nightlife Calendar Picks
Our critics pick this week's most interesting gigs.

MORE MUSIC AND NIGHTLIFE

MUSIC AND CLUBS LISTINGS

A Cut Above
Local ingredients impeccably prepared set Gabriella Café apart

BOOK A RESTAURANT RESERVATION

FIND A RESTAURANT REVIEW

Continental Drift
San Francisco's Aphrodesia reinterprets the music that Fela Kuti made famous
New Camper Times
Camper Van Beethoven proves that reunions don't have to suck
Light in August
This season the Cabrillo Music Festival emphasized accessible new music
Letters to the Editor
August 15-22, 2007.