July 25-August 1, 2007
home | the papers | metro santa cruz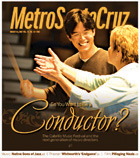 Passing the Baton
For a cadre of up-and-coming conductors, the Cabrillo Festival of Contemporary Music is a place to make important connections and refine their art

The Greenest Form of Flattery
Santa Cruz's green building standard becomes the model for Monterey and other cities
Nūz: Santa Cruz County News Briefs
The Mediator.

Masterpiece Theater
'The Rape of Europa' tracks the massive Nazi heist of Europe's art
Big Girl Now
'Hairspray' grows up to be a fast, funny movie

MORE MOVIE REVIEWS

SANTA CRUZ COUNTY MOVIE TIMES

Double Time
The LeBoeuf Brothers come home to Santa Cruz before launching the next phase of their careers
Mūz: Santa Cruz Media, Music and Arts
Locals That Rock
Music and Nightlife Calendar Picks
Our critics pick this week's most interesting gigs.

MORE MUSIC AND NIGHTLIFE

MUSIC AND CLUBS LISTINGS

La Vie, C'est Belle
Impeccably fresh and always inventive, Café La Vie makes eating healthfully fun again

BOOK A RESTAURANT RESERVATION

FIND A RESTAURANT REVIEW

Curtain Call
Poignant and absurd, 'Endgame' marks the departure of Paul Whitworth
Letters to the Editor
August 1-8, 2007, 2007.