October 3-10, 2007
home | the papers | metro santa cruz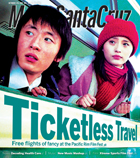 Watching A Changing World
The Pacific Rim Film Festival offers a glimpse into rapidly morphing societies—and it's absolutely free.
2007 Pacific Rim Film Festival
Schedule of Films

Decoding Health Care
In coming weeks California will adopt health-care reform. A guide to the options on the table.
Nūz: Santa Cruz County News Briefs
If spraying pheromones for moths is so awful, why are organic farmers for it?

Radical Reels Film Festival
UCSC hosts a night of adrenaline-pumped footage of extreme mountain sports.

MORE MOVIE REVIEWS

SANTA CRUZ COUNTY MOVIE TIMES

Muz
In which Garrett Wheeler discovers high school kids who rock.
Music and Nightlife Calendar Picks
Our critics pick this week's most interesting gigs.

MORE MUSIC AND NIGHTLIFE

MUSIC AND CLUBS LISTINGS

Restaurant Review: The Crepe Place
Like an old friend, Santa Cruz's favorite late-night eatery remains comfortable and inviting.
Dish
It's almost mushroom-hunting season.

BOOK A RESTAURANT RESERVATION

FIND A RESTAURANT REVIEW

Avant Garde Night at the U
Pulitzer Prize-winning classical composer Aaron Jay Kernis heads to UCSC.
Open Studios Tour
Imagine getting ready for scores of strangers to pop in and look at your artwork.
Letters to the Editor
October 3-10, 2007.