August 22-29, 2007
home | the papers | metro santa cruz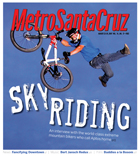 Aptos Air Time
Once just kids riding around an empty lot by the post office, Aptos locals Jamie Goldman, Tyler McCaul and Greg Watts are now making mountain biking history

Condo Confidential
Is downtown Santa Cruz turning into a yuppie ghetto? Some may find the answer surprising.
Nūz: Santa Cruz County News Briefs
Fair Trade

Movie review: 'Becoming Jane'
Anne Hathaway takes up pen and paper to portray beloved author.
The idiots
Two new comedies--'Hot Rod' and 'The Ten'--go lowbrow with high style.
Friends in Need
A self-centered antique dealer and a Monsieur Know-It-All pal around in 'My Best Friend'

MORE MOVIE REVIEWS

SANTA CRUZ COUNTY MOVIE TIMES

Mūz: Santa Cruz Media, Music and Arts
The Underrated
Music and Nightlife Calendar Picks
Our critics pick this week's most interesting gigs.

MORE MUSIC AND NIGHTLIFE

MUSIC AND CLUBS LISTINGS

La Familia
Some of these recognizable faces have been greeting Ristorante Avanti's many devotees for years. At center is chef Ben Sims, who took over the kitchen in 2005.

BOOK A RESTAURANT RESERVATION

FIND A RESTAURANT REVIEW

This Ain't No Samba
Forro for All brings a raucous taste of Brazil to the Attic
Second Act
Fingerpicking maven Bert Jansch enjoys a late-career reappraisal
Letters to the Editor
August 22-29, 2007.