September 12-19, 2007
home | the papers | metro santa cruz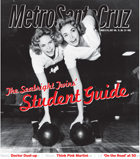 Maverick Medicine
Dominican closes the door on naturopathic doctors and their patients
Nūz: Santa Cruz County News Briefs
Hookah ordinance; Coastal Cleanup Day; details on UCSC growth decision; UCSC Extension cuts arts and humanities department; urban garden runoff.

3:10 to Yuma
Russell Crowe as gun-toting Renaissance man
Vitus
The comedy, drama and horror of the child prodigy

MORE MOVIE REVIEWS

SANTA CRUZ COUNTY MOVIE TIMES

Muz
The search for Locals Who Rock continues on Highway 9
Music and Nightlife Calendar Picks
Our critics pick this week's most interesting gigs.

MORE MUSIC AND NIGHTLIFE

MUSIC AND CLUBS LISTINGS

Restaurant Review: The Buttery
It isn't just for breakfast anymore
Harvest Boon
Chef Boy Ari's secrets to preserving the fall harvest
Dish
Shumei in Bonny Doon; La Posta's family-style night; Aunt Nettie's gazpacho

BOOK A RESTAURANT RESERVATION

FIND A RESTAURANT REVIEW

Think Pink
Pink Martini comes to the Rio on the 12th
Two Non-Blondes
The Brunettes play Kuumbwa on the 12th
'On the Road' at 50
Still smart, still relevant
A New Venue
The Crepe Place opens its patio stage to evening shows
Letters to the Editor
September 12-19, 2007.