September 26 - October 3, 2007
home | the papers | metro santa cruz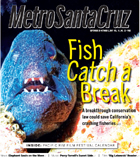 Cordoning off the Sea
California's Marine Protected Areas represent a new approach to conservation—and a potential boon for scientists.

Elephant Seals Rebounding
A new documentary by a Soquel filmmaker shows elephant seals are making a massive comeback from near-extinction. A look at a species in transition.
Nūz: Santa Cruz County News Briefs
Cemex plays hardball with Davenport Cement union workers; City, county and UCSC join in landmark environmental compact; Santa Cruz City Council suspends smoking ban for medical potfest.

Deep Water
Documentary traces Donald Crowhurst's ill-fated sailing trip around the world.

MORE MOVIE REVIEWS

SANTA CRUZ COUNTY MOVIE TIMES

Muz
Where was everyone at Local Band Night?
Music and Nightlife Calendar Picks
Our critics pick this week's most interesting gigs.

MORE MUSIC AND NIGHTLIFE

MUSIC AND CLUBS LISTINGS

Restaurant Review: The Farm
A culinary journey to rustic and hearty, with a brief stop at elegance
Dish
Santa Cruz Mountain Brewing; San Lorenzo foodfest; more.

BOOK A RESTAURANT RESERVATION

FIND A RESTAURANT REVIEW

Everything Old is New
For the Santa Cruz Symphony's 50th anniversary season, Music Director John Granger has selected pieces with the symphony's history in mind.
Perry Farrell's Satellite Party
The formerly drug-addled frontman for Jane's Addiction turns his eyes heavenward.
Cult Leader
The ultimate 'Big Lebowski' book has arrived!
Letters to the Editor
September 26 - October 3, 2007.