September 19-26, 2007
home | the papers | metro santa cruz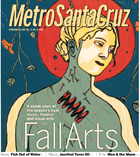 Delta Water Shortage Felt Everywhere
A judge's ruling to stop overpumping of the Sacramento Delta has water agencies all over the state howling
Nūz: Santa Cruz County News Briefs
Scotts Valley backs out of housing development, UCSC prof questions obesity epidemic, sea otters don't like your cat's litter, and Night Light returns

In the Shadow of the Moon
Ron Howard-produced documentary asks Apollo astronauts to tell it like it was
Moliere
Capturing the French satirist's life on film proves tough

MORE MOVIE REVIEWS

SANTA CRUZ COUNTY MOVIE TIMES

Muz
Can trannies rock? Our columnist investigates.
Music and Nightlife Calendar Picks
Our critics pick this week's most interesting gigs.

MORE MUSIC AND NIGHTLIFE

MUSIC AND CLUBS LISTINGS

Restaurant review: Bella Roma
Capitola's charming Italian restaurant delivers delight
Dish
Lulu's at the Octagon's coffee, Scotts Valley's newest addiction and orange (yes, orange) eggplant

BOOK A RESTAURANT RESERVATION

FIND A RESTAURANT REVIEW

Dave Brubeck
The venerable jazz pianist stops by Santa Cruz on the eve of Monterey JazzFest's 50th anniversary
Rova Jazz Quartet
Because jazz isn't already experimental enough
Letters to the Editor
September 19-26, 2007.