December 26, 2007 - January 2, 2008
home | the papers | metro santa cruz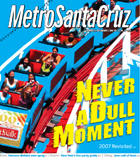 Hot Topics
Was it us, or did it get warm in here? A look back at the climate-changing, pheromone-spraying, highway-widening madness of 2007

Method of Madness
Santa Cruz organic farmers take issue with the state's handling of the light brown apple moth infestation
Nūz: Santa Cruz County News Briefs
Expect CHP to be out in force this weekend.

Sibling Meltdown
Sister Laura Linney and brother Philip Seymour Hoffman can't cope with Dad in 'The Savages'
Slice and Dice
Tim Burton's 'Sweeney Todd' is certain to dominate the holiday's cutthroat competition
Couch Bravado
What better time to indulge in DVD sets than the dead of winter?

MORE MOVIE REVIEWS

SANTA CRUZ COUNTY MOVIE TIMES

Mūz
Columnist Garrett Wheeler dips into salsa.
Music and Nightlife Calendar Picks
Our critics pick this week's most interesting gigs.

MORE MUSIC AND NIGHTLIFE

MUSIC AND CLUBS LISTINGS

After the Rapture
A talk with India Joze shaman/chef Joseph Schultz recalls the sparkle of our collective culinary pilgrimage eastward
Dish
Bonny Doon says its new Le Vol des Anges dessert Roussanne may be the best thing it's ever done. Who.

BOOK A RESTAURANT RESERVATION

FIND A RESTAURANT REVIEW

Ringing in 2008
Our New Year's Eve party guide