November 14-21, 2007
home | the papers | metro santa cruz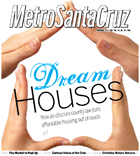 For decades Santa Cruz County resisted building affordable housing. Now that it's trying to make right, even that's going wrong. The first in a two-part series.

Santa Cruz Flea Market Folds
With the sale of the Skyview Drive-in, Santa Cruz braces for the loss of its only flea market and its last drive-in theater.
Carbon Offsets as Papal Indulgences
Buying your way out of sin is a very old idea.
Nūz: Santa Cruz County News Briefs
Social justice and the Monning Assembly campaign.

Review: No Country for Old Men
In this Texas justice flick, the Coen brothers pay tribute to a venerable genre.

MORE MOVIE REVIEWS

SANTA CRUZ COUNTY MOVIE TIMES

Caetano Veloso
One of Brazil's favorite sons comes to the Santa Cruz Civic.
The McKeown Question
Erin McKeown, who plays the Crepe Place this week, is many things, but she is not a folk musician.
Mūz
Even without a live band, Paloma and the Rubys shook the Catalyst.
Music and Nightlife Calendar Picks
Our critics pick this week's most interesting gigs.

MORE MUSIC AND NIGHTLIFE

MUSIC AND CLUBS LISTINGS

Dining: Christina Waters is Back!
And she lets us eavesdrop on a conversation with award-winning winemaker John Schumacher of Hallcrest Vineyard.
Dish
The Golden Bean Chocolate Bar
Raw food just got a lot more interesting.

BOOK A RESTAURANT RESERVATION

FIND A RESTAURANT REVIEW

Americans Who Tell The Truth
Robert Shetterly's exhibit, now showing in downtown Santa Cruz, portrays American activists against a backdrop of their own words.
Theater review: Mariama
Marian Oliker's one-woman show gets at the heart of the human experience.
Letters to the Editor
November 14-21, 2007