October 24-31, 2007
home | the papers | metro santa cruz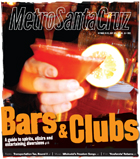 Annual Metro Santa Cruz Bars & Clubs Issue
From Boulder Creek to Watsonville, we visited 80 bars so you won't have to.

Santa Cruz to Sign Climate Pact with Lolland, Denmark
It's not as random or nuts as it sounds.
Nūz: Santa Cruz County News Briefs
Three years after voters shot it down, another transportation tax surfaces. But this time alternatives to cars get a little more attention.

Review: Lars And the Real Girl
Ryan Gosling gets carried away with his bumbling, sex doll-loving Norskie.
'Nosferatu' On Halloween Eve
New Music Works score intensifies the vampire flick experience.
Cult Leader: Bunuel Reconsidered
The Spanish surrealist filmmaker deserves a good hard look.

MORE MOVIE REVIEWS

SANTA CRUZ COUNTY MOVIE TIMES

Oliver Mtukudzi's Redemption Songs
The Zimbabwean singer comes to Kuumbwa.
Review: 'Kala' by M.I.A.
The Sri Lankan rapper has her way with the pop music icons of eras past.
Muz
Garrett Wheeler stumbles onto hip-hop in Santa Cruz. And likes what he sees.
Music and Nightlife Calendar Picks
Our critics pick this week's most interesting gigs.

MORE MUSIC AND NIGHTLIFE

MUSIC AND CLUBS LISTINGS

Restaurant Review: Sabieng Thai
Who knew Thai wonton soup was so good?
Dish
Now you can give restaurants that serve Chilean sea bass a piece of your mind.

BOOK A RESTAURANT RESERVATION

FIND A RESTAURANT REVIEW

Teen Band Class
In 'Be in Your Own Band,' Santa Cruz teens get to try out the rock & roll lifestyle.
Letters to the Editor
October 24-31, 2007.