October 10-17, 2007
home | the papers | metro santa cruz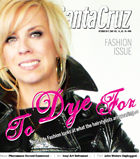 Metro Santa Cruz's Real Life Fashion Issue
What the hairdressers are wearing this fall.

Jeremy Neuner on the Record
Santa Cruz's new economic development manager talks about the clean tech revolution, wooing industry and making his new hometown "young and rich."
Nūz: Santa Cruz County News Briefs
Watsonville and Scotts Valley gear up for a fight over who's going to get stuck building houses.

John Waters Doesn't Like TV
And other curiosities about the director of the original "Hairspray."