October 17-24, 2007
home | the papers | metro santa cruz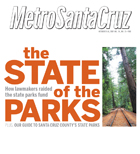 The Parks Issue
Our guide to state parks in Santa Cruz County—why they're underfunded, why we love them anyway.

Loggerhead Turtles in Trouble
A groundbreaking study by UCSC researchers finds that small-scale fisheries are the bane—and the salvation—of endangered loggerhead turtles.
Nūz: Santa Cruz County News Briefs
It looks like the new ban on loitering in city-owned parking lots is only going to displace the problem. What a shock.

Review: 'Things We Lost in the Fire'
Benicio del Toro accepts his destiny as a leading man.