November 7-14, 2007
home | the papers | metro santa cruz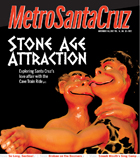 In a new book, UCSC history professor Dana Frank finds surprises in the Boardwalk's Cave Train Ride and other local landmarks.

Making Solar Affordable in Santa Cruz
City officials explore ways to make going solar an option for non-millionaires.
Tom Brokaw Goes 'Boom!' at the Rio
Following his bestseller 'The Greatest Generation,' the newsman looks at the Sixties.
Nūz: Santa Cruz County News Briefs
The Santa Cruz Sentinel has left the building.

Review: Lions for Lambs
Robert Redford presents an earnest anti-war film.
Review: American Gangster
Why, Ridley, why?

MORE MOVIE REVIEWS

SANTA CRUZ COUNTY MOVIE TIMES

Greg Camp of Smash Mouth
The guitarist responsible for all those catchy tunes opens a new Westside Santa Cruz studio.
UCSC Orchestra Performs Music of the Americas
Conductor Nicole Paiement continues her streak of innovative programming.
Mūz
To his great surprise, Garrett Wheeler gets his zydeco on.
Music and Nightlife Calendar Picks
Our critics pick this week's most interesting gigs.

MORE MUSIC AND NIGHTLIFE

MUSIC AND CLUBS LISTINGS

Review: Seabright Brewery
For a beer and wings kind of night, there's no place better.
Dish
What happens when you mix the Dante Society and Slow Foods? A feast fit for a Medici.

BOOK A RESTAURANT RESERVATION

FIND A RESTAURANT REVIEW

Ralph Angel Gets Real
The PEN Award-winning poet talks about the creative process as he heads to Santa Cruz.
Letters to the Editor
November 7-14, 2007