December 5-12, 2007
home | the papers | metro santa cruz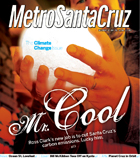 Meet Ross Clark, the man whose job it is to reduce Santa Cruz's carbon footprint. Our special Climate Change Issue also includes an essay by environmentalist Bill McKibben and a look at California's anti-warming laws.

Home is Where the Genome Is
Scientists at Long Marine Lab are working on technology that could help save threatened salmon populations--while still allowing fishermen to harvest from healthy ones.
Nūz: Santa Cruz County News Briefs
The Ocean Street Redevelopment project achieves liftoff.

Fighting Back
The documentary 'Darfur Now' follows six men and women trying to stop the horror.

MORE MOVIE REVIEWS

SANTA CRUZ COUNTY MOVIE TIMES

The Joy Boy
Jonathan Richman keeps the post-punk rock & roll party going as he and Modern Lovers drummer Tommy Larkins head to Santa Cruz's Vets Hall.
Tough Guys
The new Charlie Hunter Trio brings a harder edge to town.
Mūz
Garrett Wheeler finds happiness at the Loves in Heat Records Festival.
Music and Nightlife Calendar Picks
Our critics pick this week's most interesting gigs.

MORE MUSIC AND NIGHTLIFE

MUSIC AND CLUBS LISTINGS

From Behind the Curtain
Au Midi's hidden kitchen delivers one French gem after another.
Dish
Santa Cruz says good-bye to Severino Community Butchers as Justin Severino heads back East.

BOOK A RESTAURANT RESERVATION

FIND A RESTAURANT REVIEW

Santa Cruz Nation
Could Planet Santa Cruz, the radio variety show dreamed up by comedian Richard Stockton, go big?
Dance Dance Revolution
The Cabrillo Winter Dance Concert offers a program that's by turns political, ethereal and theatrical.
Letters to the Editor
December 5-12, 2007