November 28 - December 5, 2007
home | the papers | metro santa cruz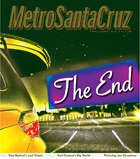 As the Skyview Drive-In Theater prepares to go dark, Santa Cruzans fondly reminisce on six decades of shivering, smooching and underage drinking at the movies.

Michael Krasny, Kvetch Artist
In a new book, the popular radio host critiques his own life and the world in which he lives it.
Nūz: Santa Cruz County News Briefs
Goodwill Industries steps up to save the flea market.

Review: Control
Joy Division's fragile lead singer, Ian Curtis, is immortalized in Anton Corbijn's biopic.
Review: The Future Is Unwritten
Julien Temple's documentary illuminates the journey of Clash frontman Joe Strummer from pissed-off punk to grinning saint.

MORE MOVIE REVIEWS

SANTA CRUZ COUNTY MOVIE TIMES

Karl Denson's Big World
The former Greyboy Allstar and citizen of the Tiny Universe breaks out with a new trio.
Music for the Feast of Christmas
The Cabrillo Symphonic Chorus returns with a Santa Cruz holiday tradition.
Mūz
Guest columnist Brian Kennedy finds a scene brewing around Loves in Heat Records.
Music and Nightlife Calendar Picks
Our critics pick this week's most interesting gigs.

MORE MUSIC AND NIGHTLIFE

MUSIC AND CLUBS LISTINGS

The Man Behind Pasta Mike's
Christina Waters peers beyond the packaging and finds a story of quiet triumph.
Dish
The chocolate truffle treat that toured with King Tut was dreamed up in Santa Cruz.

BOOK A RESTAURANT RESERVATION

FIND A RESTAURANT REVIEW

Theater review: La Pastorela
El Teatro Campesino's new take on 'The Shepherds' Play' features female devils and angels.
Santa Cruz Style in San Francisco
Jeweler Lynn Guenther and fashion designer Linda Ripatti head to the Bay Area for the prestigious Celebration of Craftswomen.
Letters to the Editor
November 28 - December 5, 2007