December 19-26, 2007
home | the papers | metro santa cruz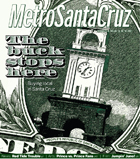 A new buy-local campaign aims to keep Santa Cruz shoppers close to home this holiday season.
Freerice.com builds vocabulary while feeding the world's poorest. Looks like everyone can win, after all.

Surfers in The Red
Better get used to those long, nasty red tides. They could be here to stay.
Nūz: Santa Cruz County News Briefs
The Coastal Commission gives the nod to Terrace Point, the deep pockets behind high-performing Pacific Collegiate School, Moveon.org rallies against war with Iran and an enterprising former College Republican cybersquats on City On A Hill Press.

Faithful Reproduction
Jason Reitman's 'Juno' overflows with predictable types.
Kabul, Kabul
'The Kite Runner' fails to soar on the big screen.
Cashing In
John C. Reilly makes a superb Johnny Cash (and Roy Orbison) in musical satire 'The Dewey Cox Story.'

MORE MOVIE REVIEWS

SANTA CRUZ COUNTY MOVIE TIMES

Royal Pain
Prince's lawsuit against unauthorized fan sites: reasonable protection of privacy or petty, ungrateful antic?
Mūz
Music writer Garrett Wheeler stumbles onto the next big thing—and it's still in high school.
Music and Nightlife Calendar Picks
Our critics pick this week's most interesting gigs.

MORE MUSIC AND NIGHTLIFE

MUSIC AND CLUBS LISTINGS

Chinese Class
Fresh vegetables and attention to detail make the Panda Inn an Aptos standout.
Dish
The sweet story of Jeff Walls Bees & Honey in Soquel.

BOOK A RESTAURANT RESERVATION

FIND A RESTAURANT REVIEW

Give the Gift of Broadway
Those cheesy, over-the-top original cast soundtracks can't be beat.
Letters to the Editor
December 19-26, 2007